We all know the comfort a warming cuppa brings. Be it a cup of strong coffee or a soothing camomile, we all treat ourselves with one to warm ourselves up in this chill.
Brew Monday encourages people to get together for a warm cuppa, be it a friend, family or colleague.
This year, however, it's a little different. With the lockdown, we may be feeling the absence of meeting up with our loved ones, but we can still reach out virtually to share a warm drink.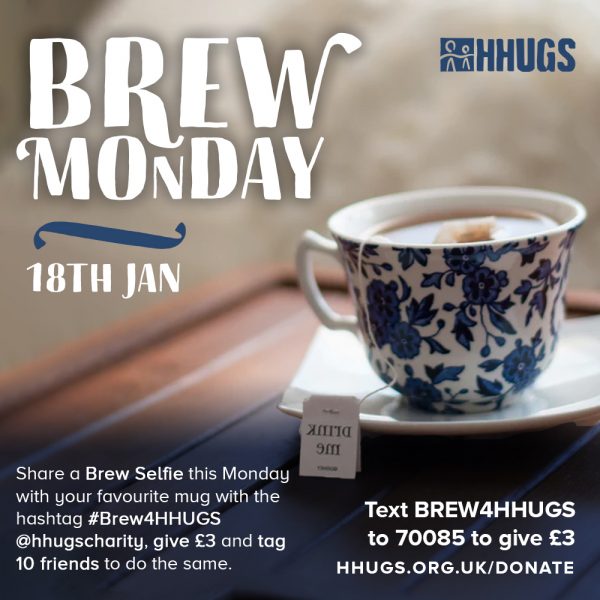 Tea time is a chance to slow down, pull back and appreciate our surroundings. – Letitia Baldrige
Brew It Better

This Brew Monday, get involved by sharing a picture of your brew! A perfect excuse to take out your fancy mug, that special herbal tea or to indulge in that cheeky second cup of coffee.
Give £3 by texting BREW4HHUGS to 70085 (or online www.hhugs.org.uk/donate), tag 10 friends in your brew selfie, and nominate them to do the same, as they share their brew selfie too!
Don't forget to tag @hhugscharity and use the hashtag #Brew4HHUGS; we can't wait to see your special brews!

Here's some sample statuses you can use:

"This #BrewMonday here's my #Brew4HHUGS @hhugscharity. Share your own Brew Selfie & text BREW4HHUGS to 70085 to give £3."

"This #BrewMonday I'm brewing it better for @hhugscharity. Share your #Brew4HHUGS selfie & tag 10 friends. Text BREW4HHUGS to 70085 to give £3. shorturl.at/dvFY6 "

"Today is #BrewMonday. Join me as I #Brew4HHUGS. Tag 10 friends & text BREW4HHUGS to 70085 to give £3 @hhugscharity."

"Nothing like a warm cuppa on #BrewMonday. Share your brew selfie & tag 10 friends #Brew4HHUGS. Give £3 to warm families this Winter shorturl.at/dvFY6 @hhugscharity."
BREW IT BETTER VIRTUAL COFFEE MORNING
What makes a warming cuppa, even more warm?

A cuppa enjoyed with great company.

And to make it absolutely perfect? Well, indulging in something sweet obviously!

You may wonder, how could you create this perfect combination, even during a lockdown.

Well, you can – all whilst changing lives.

This Brew Monday, why not sign up to host a virtual coffee morning as part of our Bake It Better challenge and fundraise for HHUGS?

Bake it Better for HHUGS