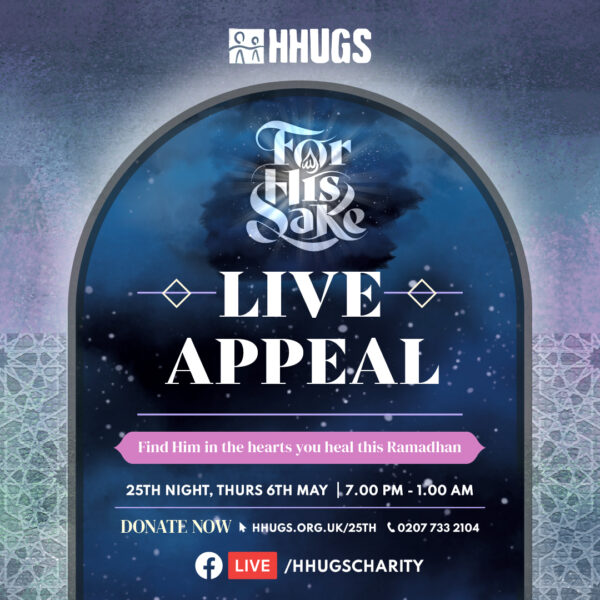 Why seek out Laylatul Qadr alone, when you can do it with HHUGS?
Note down the date, spread the word, gather round and join us for our Ramadhan Live Appeal on Thursday the 6th of May 2021 from 7PM TO 1AM!
Join us on this auspicious night, a night which could be Laylatul Qadr, to make the most of these final moments, to serve His servants, for His Sake.
"My Love is assured for those who love each other for My Sake, who sit together for My Sake, who visit each other for My Sake, and who spend on each other for My Sake."
As we seek the Night of Qadr, we call out to Him, head bowed and tears flowing furiously. We pray to Him for Mercy, and plead to be among those believers who have been forgiven in the blessed month of Ramadhan.
"Verily Jibril approached me and said: 'Whomsoever reaches the month of Ramadhan, but does not have his sins forgiven before his death, he will enter the Hell-fire, and may Allah distance this person.' Jibril ordered that I say 'Amin', so I said Amin." (Ibn Hibban)
Honour them, for His sake. He will Honour you.
Allah Almighty said: Those who love each other for the sake of my glory will be upon pulpits of light, admired by the prophets and the martyrs. (at-Tirmidhi)
GIVE ON A NIGHT EQUAL TO A THOUSAND MONTHS
• £50 Heal a heart (therapy)
• £150 Cheer a Child – 10 Eid Gifts
• £250 Feed the Hungry
• £500 Shelter the homeless
• £750 Nurture a child
• £1000 Empower a mother
• £2000 Relieve debts
• £3000 Feed a Family for the year