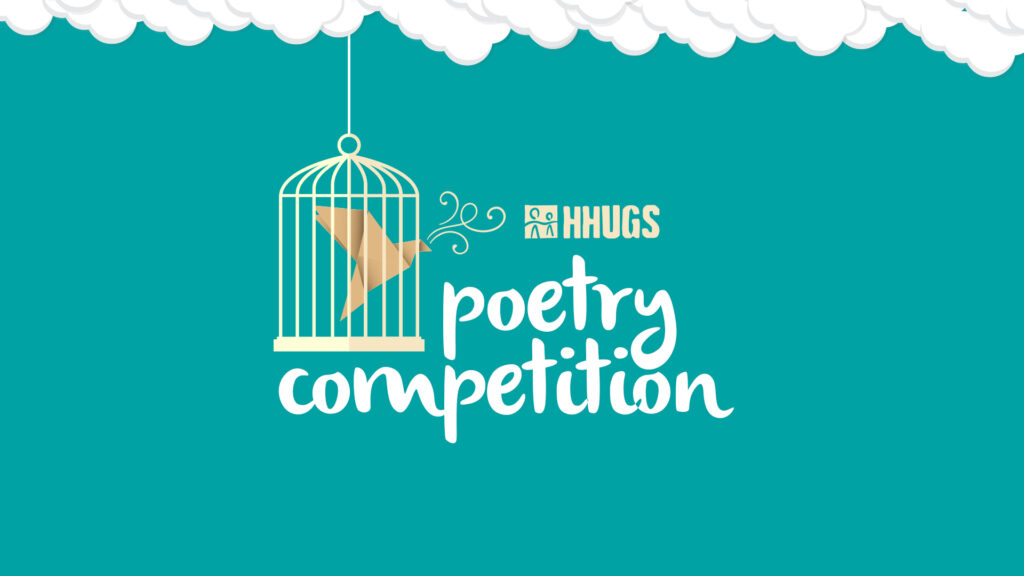 A poet carefully arranges and rearranges language to help stir the reader's imagination. They do this by managing rhyme, sentence length, structure and sound. It is a way to communicate, to explore, to share and connect with others, through the power of language.
On National Poetry Day, we celebrate and encourage all to enjoy, share, and read poetry. It is a day where teachers, educators, parents, and poets, explore the use of language, and share its power with others. It is a day where we can truly commemorate our favourite poets, be it Shakespeare or Plath.
Last year, on National Writing Day HHUGS launched our first ever poetry competition. It was a roaring success and we were amazed at the talented responses submitted. So, this year, we are back with a bang.
Yes, you guessed right, we are running our second poetry competition!

Last year our theme was Isolated but not alone. We had some amazing, thought provoking responses, and wanted to create something just as powerful to work with.
2021 Theme

The theme for this year is: Finding strength in the storm
It's plain to see that we all have been through it this year. Some more than others; but all our lives have changed in one way or another. We have conjured up strength within us we didn't know we had. We have changed, morphed and battled through our own tests. We, as a community, as a society, as a country, and as the human race, have come together to strive towards a normality which we can continue in.
We have found strength, when we thought we had none left. This strength is intimate; it is personal and unique to every one of us. You may have found strength within yourself because of your faith, your children or your job. You have found it in an early morning sunrise or in between sobs on the prayer mat during the darkness of the night.
You may have had some difficulty finding it, and in those days, you may have found it in someone, or something else. It could have been gifted to you by a neighbour, or a friend or a virtual phone call. You may have had a glimpse of it, only for it to then disappear.
We would like you to write a poem based on this theme. There is no right or wrong answer; unravel the theme as you see fit. After all, we are all created beautifully unique and that is what makes us shine the brightest.
Your strength may be inspired by a loved one, an action, or an experience. Your strength may be found in a moment, or a special day you reminisce on. Your strength may be the darkness that hangs over you like a cloud, or the cloud that reminds you of the sun that is due to merge. Your strength may be calling out to Him, in darkness, or before sunrise. It may be the tears that fall when you supplicate for better beginnings.
We look forward to hearing about your strength. Get writing.
To help you kickstart your creativity we have prepared some Creative Writing prompts.
Submission:
To submit your piece click HERE by: 24th June 2021 (National Writing Day)
Competition guidelines
Entries will be judged in three categories:
7-12 years old
13-18 years old
19+ years
Prizes will be awarded for the winners in each category
All entries should be on the theme specified.
The winning entries in each category will be invited to perform their poem at our online event (if female) on or to send a video of their performance to be broadcast on our Facebook page where the winner is male
The winning entries will also be published on our social media platforms on the week commencing
All poems must have a title and must not exceed 20 lines in length.
A single entrant must only submit a maximum of 3 entries.
All poems must be the entrant's original work
All entries should not have been published or self-published previously
Entries should not contain any profanities, or any statement which could be construed as incitement to hatred, violence, any criminal act, or the glorification or promotion of terrorism.
 Any entry that suggests evidence of plagiarism will be disqualified.