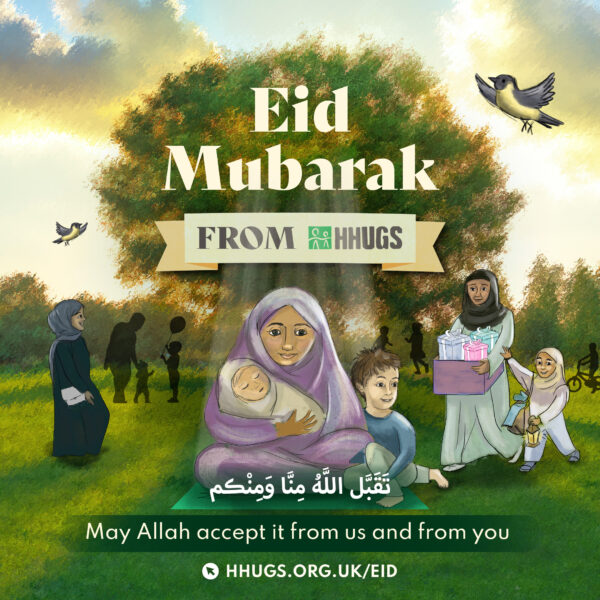 Eid Mubarak from HHUGS! TaqabbalAllahu minna wa minkum​. May Allah accept your siyam, qiyam, sadaqah and Ibadah from the blessed month of Ramadhan.
On behalf of all our beneficiaries, volunteers, staff and trustees, HHUGS wishes you and your loved ones a blessed Eid filled with joy, happiness, peace and prosperity.
Where last Ramadhan we learnt the harsh reality of an isolated Ramadhan, this Ramadhan, the customs we usually take for granted year after year were cherished. Praying taraweeh communally in the mosque never tasted any sweeter. Being able to put your forehead on the floor surrounded by other believers and praying behind the Imam was a blessing we savoured.
At HHUGS, this Ramadhan has reminded us of the strength, unity and generosity of our Ummah. It has instilled within us a deep appreciation for all those support our charity and HHUGS families; whether you donate, fundraise, share, like or retweet our content, or remember our families in your Duas. 

Even as the world around us changed, you stuck by us, stronger than ever, and continued to show your unwavering support. For that, we are truly grateful. 

Without your support, we would be unable to continue our services for families who have nowhere to turn to. This Ramadhan we have raised a record £618,276 to alleviate HHUGS families and allow them to feel the mercy of Ramadhan, and joy of Eid. You dug deep, and gave solely for His sake. Because of your generosity, single mothers could feed their children, pay their bills and are no longer drowning in debt. Smiles will be planted on young faces, as fatherless children open gifts given by loving strangers.  
Families could revel in the mercy of Ramadhan once again, knowing that they were not longer isolated and alone; that there were people out there who cared.
"We always felt very happy and not forgotten when receiving gifts for Eid, I am particularly grateful to HHUGS for giving my children this joy at these special moments, when we feel the separation from our father and husband more than any other time. We forget our loneliness when we receive these gifts."
We had a record number of Race to Jannah fundraisers, an impressive 98 of signed up to participate and raised over £193,000 this Ramadhan. We were joined for the first time, by our brave child champions who strived hard to fundraise and made a huge difference to HHUGS families.  We also upped the competition by introducing a regional competition, with participants representing their city!
We would like to also thank you for those who supported us during our Live Appeal, those who tuned in, called in, donated, and spread the word. We couldn't do it without your support.
While you're having fun with your family today, we ask that you remember those who can't.
"Eid is not for the one who wears new clothes. Eid is for the one whose obedience rises."(Ibn Rajab)

The true meaning of Eid is to increase in obedience in gratitude to Him. There's still time to share the joy of Eid and cheer a child!
We pray Allah (swt) accepts your Sadaqah, and continues to reward you long after the month has ended. May He grant us all istiqamah after Ramadhan and the opportunity to live to see many more, ameen.  We pray you all have a a joyful Eid.