We called all the nature-lovin', 10k-steppin', outdoor adventurers, and they responded. We also reached out to the hobbits, the 'I'm-going-to-do-a-trek-one-day-just-not-today', kinda human, and they responded too.
On Sunday 7th August, heavy rain and storms were forecasted; not the kind of weather you usually pray for when you've been promised spectacular views of Surrey's beauty spot. Nonetheless, the rain didn't dampen anyone's spirits; 115 women (and some children in tow too!) came out in full force, equipped with hiking boots, and raincoats, ready to trek Box Hill. Their goal? Simply to help HHUGS families; a downpour, and a looming storm wasn't going to change that. They were dedicated to make a real change to HHUGS' families – and their determination paid off.
Not only did they all successfully complete the trek, the rain gave way to some beautiful sunshine and by the end of it, they had raised a whopping £45,866! A sum which will make a huge difference to single mothers impacted by counter-terror measures within the UK; those who are too often forgotten and ignored. On this Sunday in August, however, they weren't silenced. They were very much alive in the hearts of The Surrey Sisters, providing the impetus for them to complete the trek.
Those who fundraised and took part in the Box Hill Trek were sisters from all walks of life; such was the beauty of the event. The trek presented a great opportunity to bond with other women, surrounded by nature (and some rain), all to the help families who are forgotten and isolated. Sisters stepped out of their homes, with the intention to help change lives, and certainly accomplished that. We welcomed mothers with their children, experienced fundraisers, newbies, guides, and those who just love the outdoors. That's precisely what made the trek so special; it united people for the sole cause of pleasing Him; all whilst making life-long memories.
As one sister shared,
"This was my first fundraising trek with HHUGS. And I must say the whole experience of raising the funds to hit my initial target of £500 has been more than humbling."
The trek was a great family fun day out, but it also helped establish the act of charity within the children who attended. One attendee spoke about how it helped her children appreciate the outdoors and exercise.
"Me and my children have been walking a lot since the pandemic and the children love outdoor activities. Supporting HHUGS means supporting the ummah, so this was an ideal way to teach my children about charity, it's not just giving money but physically doing something for it."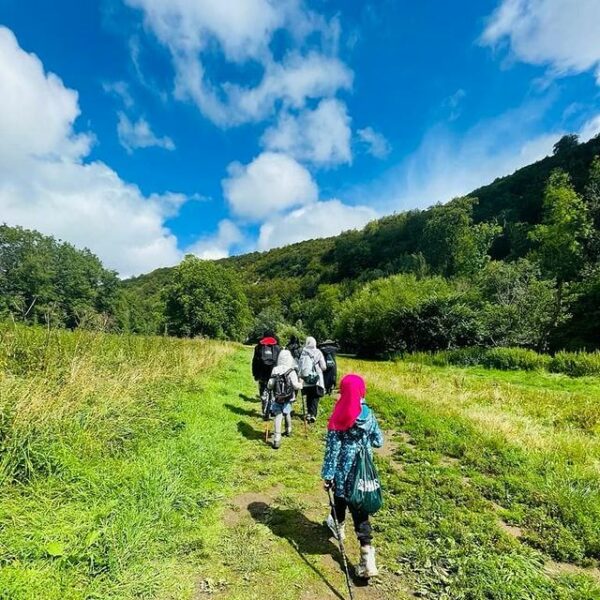 When signing up for a trek, fundraising and ensuring you reach the target can seem daunting. However, it often is easier than you anticipate, and the generosity of friends and family will blow you away. A sister shares her experience of surpassing her target! "The trek to Box Hill was on Sunday 7th August and I didn't really focus on the fundraising until 2nd August! I started with a donation of £40 from myself (Charity begins at home right?) From then on, I spent most of my time posting on all my social media platforms, mostly on my Facebook, WhatsApp groups and sending messages to all my contacts. Donations slowly, but surely, started to trickle in, and I reached £500 by that evening. SubhanAllah! So I raised my target to £600. "
It didn't end there; she spread the word and the sheer generosity of the community continued to roll in; all with the help of her son!
"Next day (3rd August) was my son's 12th birthday, and he chose to donate and asked people to match his donations. Donations coming in were very slow that day and my son said he wished someone would give something big so that I raise a lot of money. I really wasn't expecting in the morning to wake up to a total of £1025!!!! Allahu Akbar! So of course, I raised the target to £1500 and left it at that. Made du'a Allah blesses my effort and continued with updating my Facebook and encouraging people to donate and preparing for the trek."
Although they were met with heavy rain, it still did not take away from the views that they were promised. It was a moment of reflection of the beauty that surrounds us, that has been gifted to us by our Creator.
"Despite the heavy rain we were met with breath-taking views on our arrival and began trekking down the Hill. With each step, I took the time to wonder in utter amazement at Allah's beautiful creation all around us."
"On reflection of the few hours of hiking and how quickly the weather changed from being wet and cold to absolutely sweltering heat at the top of the hill. We all persisted in reaching the end of our journey that day. Despite the obstacles on our path, whether it was physical or our own fears, every single person completed the trek."
Hours of walking in nature helps you reflect on Allah's Mercy. It reminds us of His Majesty, and the impact we have on the world that surrounds us. The trek was not only a physical journey, but also a spiritual one. A sister beautifully captured the essence of the trek, and reflected on it by comparing it to the journey of a believer.
"Life is like hiking; always strive to see God's beauty, truth, and goodness in everyone and everything around you, just as you would in nature surrounded by God's creation. Just as a hiker turns his struggles into prayer and perseveres to the summit, so can we turn our daily difficulties to prayer and persevere through hardships."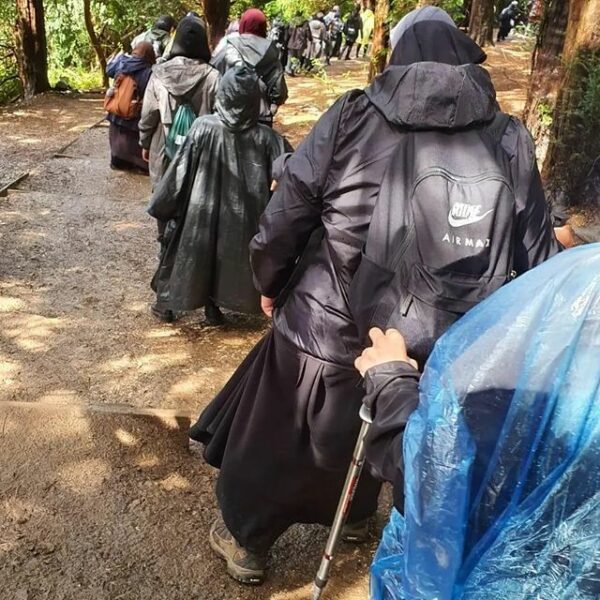 The sisters were reminded of their own blessings, and their true intention of completing the trek. Although they could rejuvenate their souls, and explore the outdoors, their true intention was to make sure that with each step that was taken, sisters in a household not too far from their own would benefit.
"I cannot help but reflect on the real purpose behind this trek and just how many families our funds would support. This journey was a chance to renew my intentions, look deep within myself, acknowledge and show gratitude for all I have and truly serve those that are the most vulnerable in our society, right here in the UK."
The Box Hill Sisters' Trek was the first event hosted by HHUGS since the pandemic, and we couldn't have hoped for it to go any better. The dedication from our fundraisers, supporters, and staff was overwhelming, and we are grateful for every penny or pound that was donated, or every post that was shared. It truly was a team effort, that could raise such an amount.
"Alhamdulillah, we finished it safely. Due to personal circumstances (loss of my mother) I was not looking to attend but did so for my children. I was not in the best of health and towards the end, I felt it became difficult, although my children didn't. The children enjoyed being in the company of others and taking part in doing outdoor activities. On our way home, the youngest cried because she wanted to climb a mountain now MashaAllah!"
Now that have had a taste of the trek life once again, we aren't going to stop there. This Autumn we are heading to Virginia Water for another uplifting sisters' day out on 16th October.
Join us for a chance to connect with the healing power of nature, in the soul-inspiring company of your sisters, as we explore peaceful landscapes and magnificent plains designed for all abilities and ages – all whilst making a difference to the lives of some of the most neglected families in the UK.
The impeccably maintained path means you can comfortably bring strollers, scooters or skates without a problem. Those who need to go slower are welcome to take their time, and those looking to speed through are welcome to charge forward! Though a walk in the park, The Waterside Wander will provide you and your loved ones with an opportunity to support vulnerable families in the UK, who often have few people to walk alongside them.
And if you're in Yorkshire or Lancashire, don't miss the opportunity to join our Ingleton Waterfalls Trail Sisters Trek on Saturday 23rd October. Be a Winter Wanderer, welcome the cold season, by invigorating your body with the crisp Yorkshire Dale air as you trek the 4.5 mile circular route, admiring stunning landscape, magnificent waterfalls, and luscious woodland.
Why miss out? Sign up for The Waterside Wander Virginia Water or Winter Wanderer Ingleton Waterfalls Trail this October now!
---