The Caged Bird Sings: An Evening of Spoken Word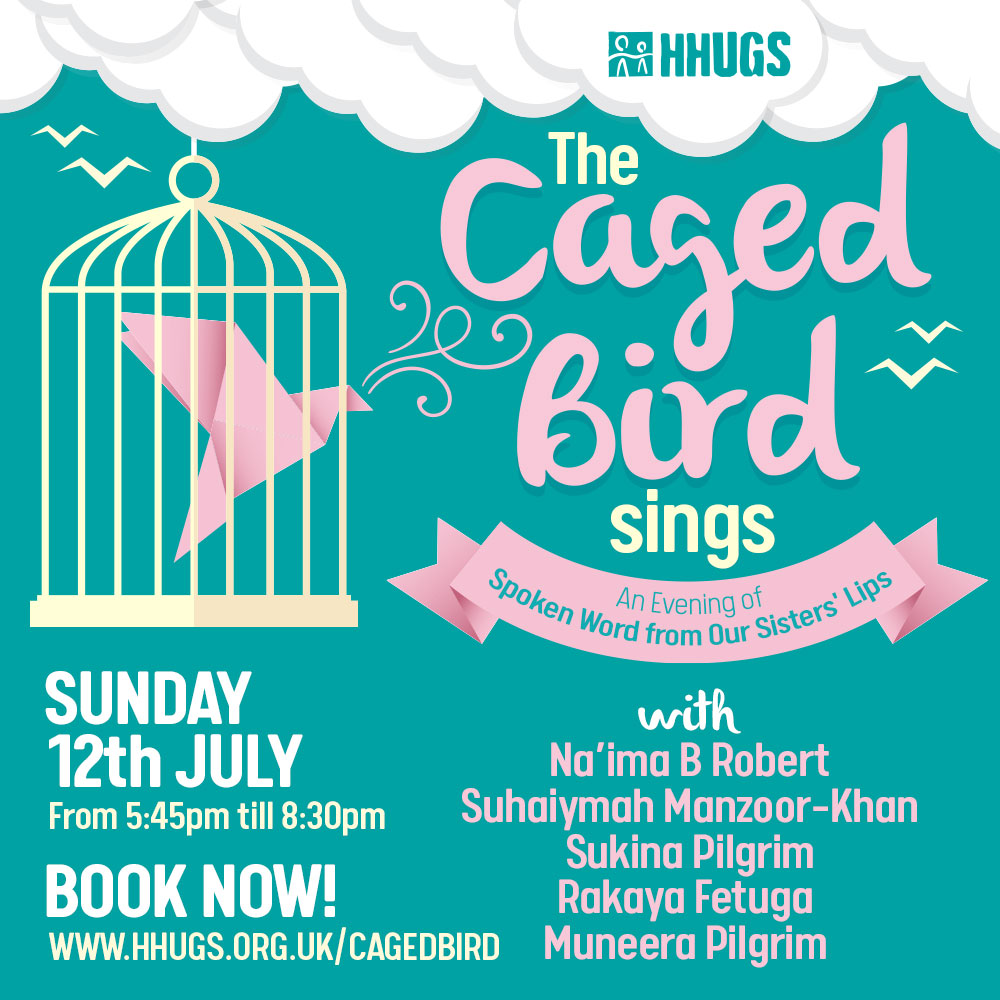 The Caged Bird Sings
An Evening of Spoken Word From Our Sisters' Lips
Sunday 12th July 2020
5.45pm-8.30pm

With:

Na'ima B Robert
Suhaiymah Manzoor-Khan
Rakaya Fetuga 
Muneera Pilgrim 
Sukina Pilgrim
The world is a crazy place right now. Set ablaze in the fires of racial injustice to the backdrop of a deadly pandemic which has crippled lives, we must arise, awaken and uplift. Voices must be heard, stories must be told, and hearts desperately need to unite.
The Caged Bird Sings is an online space for us to heal, empower and grow together. Join us for an unforgettable evening of breath-taking spoken word in a celebration of female voices, solidarity and sisterhood. Together, in this women's only forum, we will hear, hold and celebrate the artistic expression of real struggles. Some of the struggles will be private, others public, some may have been overcome, others yet ongoing. Whatever they may be, they each come from a place of authenticity, strength and inspiration.
Don't look at the world in despair or apathy, come and rejuvenate your soul in this event dedicated to the passion of real, raw sisterhood and telling our many stories. As we gather together to read and rhyme, we shall also remember and relieve the most isolated families in our midst. In times of tension and trauma, few things are more important than coming together to speak, to listen, to heal and support. Join us to see what can happen when "The Caged Bird Sings"…
FROM YOUR LIPS TO MY EARS
Whilst we are isolated at home, our thoughts turn to creativity and imagination. We have been blessed with more time to gain new skills, develop hobbies and to get those creative juices flowing!  Some of us are learning how to bake banana bread, whilst others are dusting off old paint brushes.
When history is being made, we turn to the creative among us to capture those moments. To offer us words to deliver comfort, to soothe and to rejuvenate.
This is a call out to all the poets, writers, and storytellers from among us.
Whether you are 7, 17, or 70 we want to hear what YOU have to say; we are listening.
The theme of our competition is Isolated but Not Alone.
We challenge you to delve deep and gain inspiration from your isolation.  Unravel your creativity and respond to our call by submitting your entries to our competition. Be among the creatives who are tasked with encapsulating the ever-changing world around them, within them.
Click here to download our writing prompts
To submit your piece click here, Deadline Sunday 5th July 11:59pm
Competition guidelines
Entries will be judged in three categories:
7-12 years old
13-18 years old
19+ years
Prizes will be awarded for the winners in each category
All entries should be on the theme specified.
The winning entries in each category will be invited to perform their poem at our online event (if female) on Sunday 12th July at 8pm or to send a video of their performance to be broadcast on our Facebook page where the winner is male
The winning entries will also be published on our social media platforms on the week commencing Monday 13th
All poems must be the entrant's original work
All entries should not have been published or self-published previously