Race to Jannah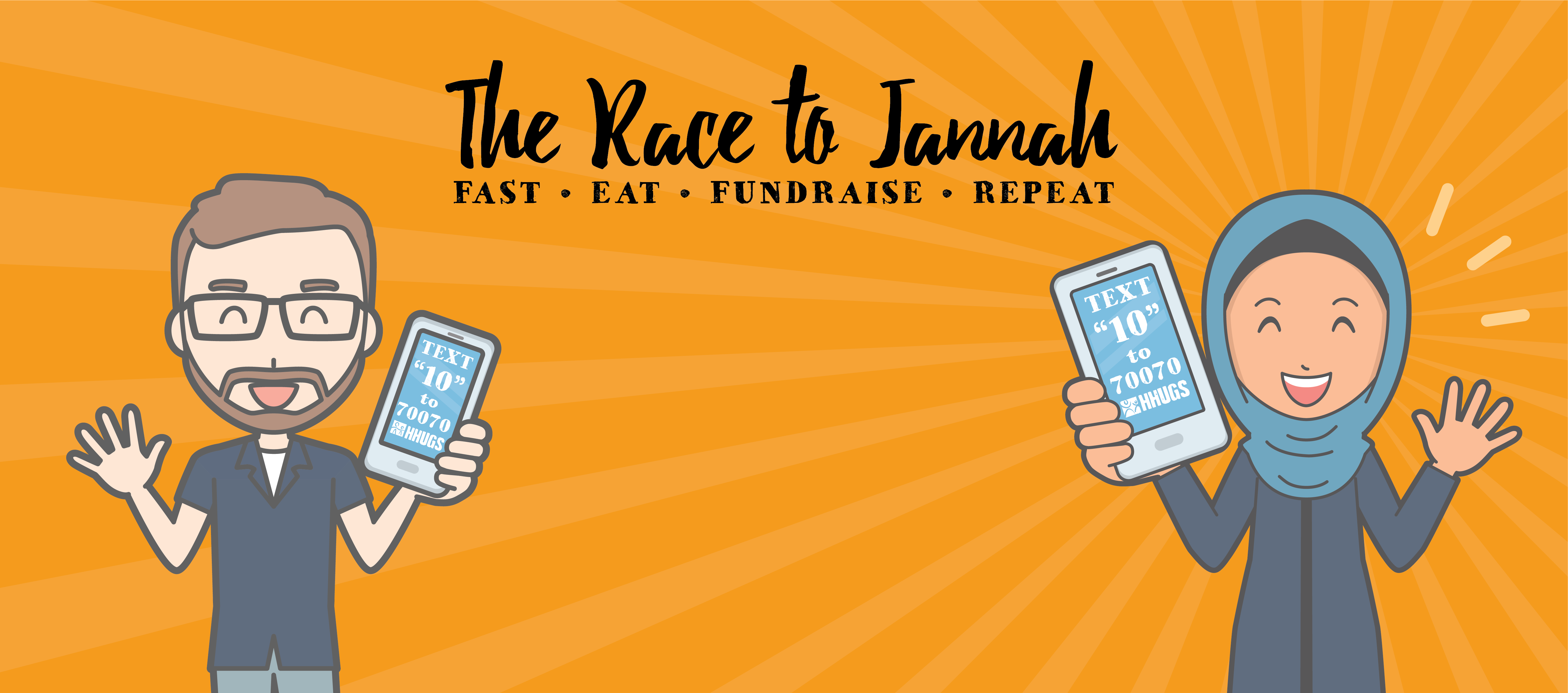 With Ramadhan around the corner, the Race to Jannah is back again for our fourth year. The believers are pumped and ready, the competition is about to be in full swing. No hard slog, no need to work up a sweat, no physical exertion involved, it couldn't be easier. How could you miss out? Fast. Eat. Fundraise. Repeat.
The Prophet (saw) said: "Whoever draws near to Allah during it (Ramadhan) with a single characteristic from the characteristics of (voluntary) goodness, he is like whoever performs an obligatory act in other times. And whoever performs an obligatory act during it, he is like whoever performed seventy obligatory acts in other times."  (Ibn Khuzaymah)
With 70 good deeds going for the price of 1, there's no way you're getting left behind, right? Well, you better make sure of it. In this month, if you snooze, you lose!
In previous years, those who joined the race with us raised an outstanding £82K in just one month, allowing us to relieve the hardship of hundreds of individuals across the UK.
For the 30 days of Ramadhan, they promoted their JustGiving or MuslimGiving pages by any means – on WhatsApp, Facebook, Twitter, some even getting their parents involved in the fundraising. For many, the target seemed daunting; indeed some had never fundraised before. But with sincere intentions, du'a and the help of Allah they made it: within 48 hours, people with no prior fundraising experience, managed to smash targets of £1000 each. Others went on to raise 10k by themselves. They made images, they made videos; they reached out to friends and family, all in aid of some of the most vulnerable families in the UK.
So, wake up and grab this opportunity to secure a mountain of good deeds by being one of HHUGS' 100 winners and registering for our £100K Ramadhan challenge.
What is the challenge?
We're looking for 100 winners raising either £1,000 or £100 each this Ramadhan.
That's ten friends donating £10 and you've reached your target!
We make the page, you promote it, and sit back and witness the generosity of this ummah at its best. It's as simple as that.
Maybe climbing a mountain, running 10km, or cycling across the country isn't for you. Unlike other challenges, where you need to exert yourselves physically, or be in a set place at a fixed time, the beauty of the Race to Jannah is that it can be done wherever you are in the world, whatever hour of the day you chose, from the comfort of your own home. Forget having to arrange child care, taking time off work or cancelling another commitment, this is as simple as it could possibly be.

What's in it for me?
On every day, charity is due on each of our joints.  That's an even greater priority for us in Ramadhan, the month in which we're desperate for His Mercy and to be amongst those freed from the Fire, the month in which the Prophet (saw) was at his most generous and undoubtedly the best time of the year to give.
Whilst we strive our best to fast the long days in the summer heat, we inevitably fall short, but charity helps to patch up these shortcomings.
You may not have huge sums of money to give, but this challenge provides a golden opportunity for any individual to make a difference – whether you're blessed with disposable income or otherwise.

What's more, you'll be rewarded for whatever your friends donate, without decreasing in their reward in the least.
"Whoever guides someone to virtue will be rewarded equivalent to him who practices that good action." [Bukhari].
Your small but persistent efforts will not only be counted as good deeds, allowing you to cover some much needed ground in the race to Jannah, but it will also help us to restore hope and dignity to over 200 households impacted by the detention of a loved one – and all in the blessed month of Mercy.
How can I raise the money?
£100 may seem daunting at first, but it's really as simple as getting 10 friends donating £10, or 20 friends to give £5.
If that seems a piece of cake, you can set your heights on £1000 – that's 20 friends donating £50.
Many participants last year doubted they could raise £300 or £500 but with sincere intentions, du'a and the help of Allah they went to raise £1000 in the space of a few days.
The simplest method is to set up a JustGiving page or MuslimGiving page to collect your funds, or to make it that much easier, we can do that for you!  We'll even create a text giving code so that your friends and family can donate effortlessly via SMS. We're on hand to support and encourage you at every stage, and if you're not a confident wordsmith, we can provide template messages for you to share if you're short of ideas.  Remember to use all means at your disposal to share your page – WhatsApp, Facebook, Twitter, Telegram and SMS. Some even made videos to encourage people, and got their parents and children to compete with them in the process! Whether you're a novice or an experienced fundraiser, this method is tried and tested.
If you're not so social media savvy and prefer more traditional methods, the good thing is, there are so many ways to raise funds and Muslims are usually at their most generous during this holy month! So, this challenge is going to be easy. Check out our Fundraising Toolkit for a complete A-Z of unique fundraising ideas, simple steps to fundraising success, how to stay safe and more!  You can also simply request a penny box by calling 0207 733 2104 or emailing [email protected]
What if I don't reach my target?

We're confident with a bit of effort and with the help of Allah, you'll easily raise whatever amount you set yourself. We know from past experience, despite their initial self-doubt, our supporters have achieved great feats and surpassed their expectations.
When you purify your intention, tie your camel by making the effort, say Bismillah and make du'a that Allah blesses your efforts – have hope and trust in Him and you'll surpass your target in no time.
"Whoever intends to perform a good deed but does not do it, Allah will record it as a complete good deed." (Bukhari, Muslim)
If you've tried your best and ultimately don't reach your target, then all is far from lost – you'll be rewarded for whatever you do manage to raise and more than that, rewarded for your intentions in the best time of the year to give charity! So aim high, you won't be disappointed! You've got nothing to lose!

Now, before you start planting your path to Jannah, be sure to spread the word and lead others towards goodness.
REGISTER HERE OR CALL 0207 733 2104.