HHUGS London Eid Party
If anyone knows how to throw a good party, it's HHUGS. Even if it's belated, we believe in better late than never right? We intended to throw an Eid party that was memorable, a day where our beneficiaries were given a brief respite from their daily lives, with an opportunity to socialise and unwind – however months the pandemic may have delayed it! Equipped with a dedicated team of staff and volunteers, the generosity of our supporters and with a communal drive to make it a day to remember, we pulled it off and it was a HUGE success.
"This has brought much happiness, laughter and fun for my children and I."
"Just would like to say, JazakAllah Khair for all your efforts and making this possible. It means a lot to us. Thank you."
Everyone loves a good party, good food, and good vibes is all you need. We may be invited by our friends and family to celebrate occasions together, but for HHUGS families, invites are few and far between. Many families can go weeks, months, and years before connecting with others, they aren't on anyone guests list, no one is waiting for their RSVPS.  That's why the HHUGS Eid party is so vital, it's the only chance many of our families have to feel normal, to see their children socialise with others and the only place where they feel welcome. That's down to the generosity of our supporters who feel the plight of our lonely single mothers who are desperate for just a brief window of normality for their families.
"It gave them opportunity to get away from being bored at home, and a chance to play and meet friends."
"It was something we both really needed. Alhamdulillah."
To make it such a memorable event, our dedicated team and volunteers worked tirelessly, perfecting every detail, to ensure it ran smoothly. But there is a lot that goes on behind the scenes from finding a venue, to filling sweet cones. Who knew, party planning could be such demanding task? But they remained motivated, knowing that it was for a great purpose, and to see the look of joy on young faces, and single mothers knowing that there were strangers who wanted to gift them happiness.
On the morn of the party, volunteers and staff members prepared the hall, apprehensive to make it look picture-perfect. There were some pre-party nerves, but they were soon washed away in the hustle and bustle of preparation.
"I was excited to help and be a part of something that helps others. I was looking forward to see all the children's happy faces."
We had a bouncy castle, games, a quiz and even an impromptu musical chairs; well nasheed-chairs in our case. It was heartwarming to see the children fill the hall playing games, mothers connecting and bonding, and staff members and volunteers working together for a greater goal.
Our dedicated volunteer shared her experience of the party. "The party went really well. It was nice to see different families come together to celebrate this joyous occasion and an opportunity for them to mingle with each other. Having arts and crafts for the kids was one of the highlights as mostly all the kids engaged in this activity."
Our Male Casework Coordinator Shaheer talks more about his experience on the brothers' side of the party.
"Alhamdulillaah, I think it went really well as the attendees appeared very happy to be there. Many were pleased with the quality of the food as well as simply having the chance to engage with other brothers. There was also an impromptu basketball match, when a child found a basketball. The highlight of the day was definitely witnessing a wheelchair-bound brother enthusiastically playing basketball whilst lots of kids joined in. That one moment really brought the event to life on the men's side."
The Eid party was a raging success, and children left with smiles planted on their faces and sweet treats in their pockets. They will be talking about the games, the company, and the food for weeks to come. It is the only chance they have to feel like to normal children, to temporarily fill the hole of the absence of their fathers and surround themselves with laughter and love.  It also was an opportunity for parents, and for the elderly to connect with other adults, and to simply have a conversation; something we often take for granted.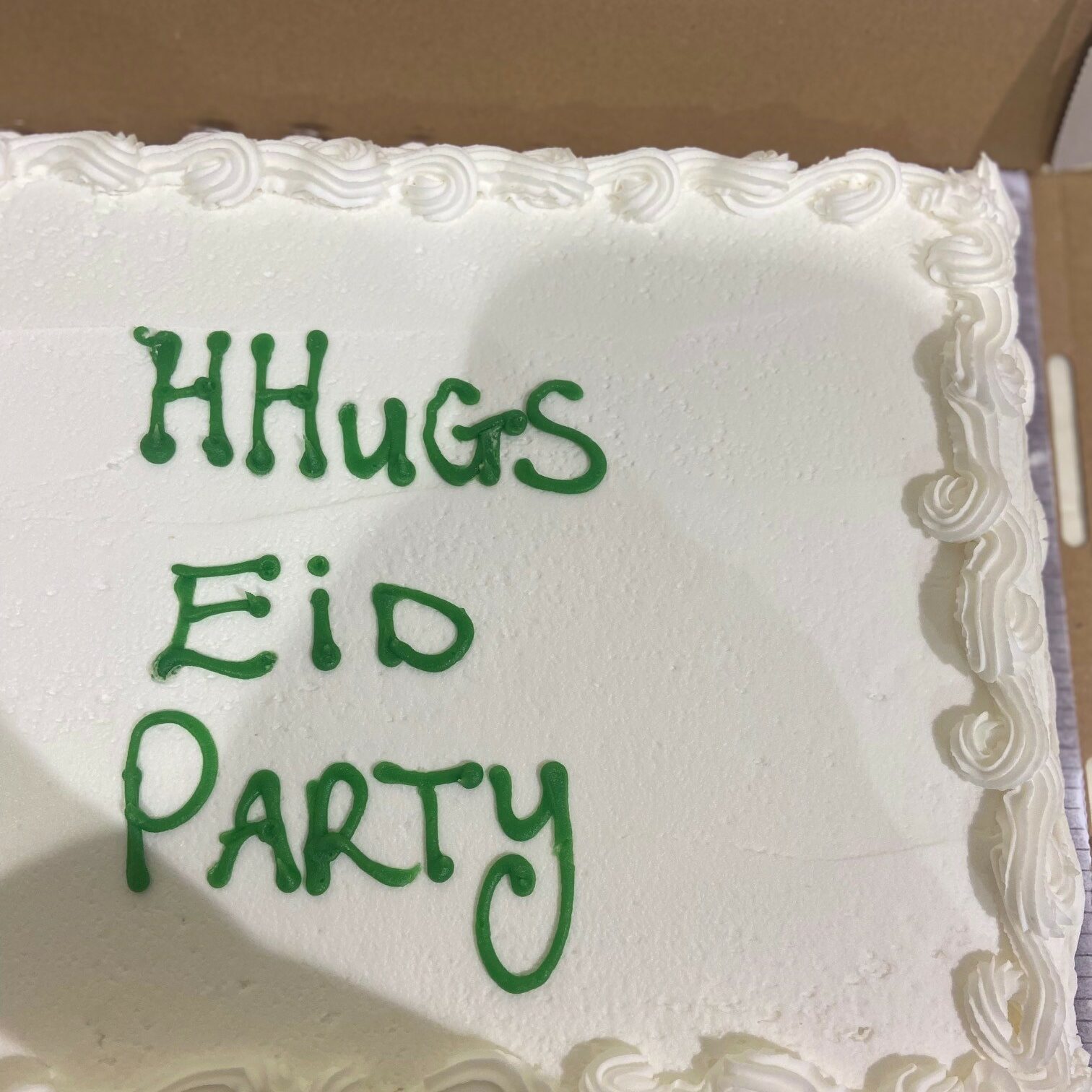 Shaheer further shares his experience of the Eid party and highlights the importance of HHUGS for these families.
"There is definitely a sense of belonging and family spirit that comes with such events. Our oldest attendee was 82 years old and the youngest was barely 1-year-old; the breadth of ages, backgrounds, and cultures was really great to see. I feel like because of coronavirus, families have to some extent become more isolated and perhaps even gotten used to that increased level of loneliness. Therefore, perhaps by their attending, they have realized that actually they do have an extended family who are there for them – their HHUGS family. For me, it was a very emotional day, yet still relaxing as the attendees each had their own unique personalities and stories and everyone honestly seemed so at ease."
You may have generously donated towards these Eid parties and it has slipped your mind, or it was a good deed which you didn't give a second thought; however, the reality is you had a life changing impact on their lives. For once, they felt the warmth of the Ummah, the helping hand of a stranger in their time of need, and the gift of the day to remember, to make memories to cherish.
It was a day to remember, for HHUGS staff, volunteers and for the beneficiaries. Without our dedicated volunteers, we would be only unable to deliver such an amazing party!
"I felt happy to be part of the team and it was wonderful to be able to achieve all what we did throughout the day."
"Just would like to say JazakAllah Khair for all your efforts and make this possible. It means a lot to us. Thank you."
Although Eid has come and gone, the loneliness of HHUGS families remain. We would like to continue to support HHUGS families and lift them out of the shadows, to help them connect and socialise with others, so that during the Winter months they don't feel all alone.
This Winter, you can gift them warm companionship. You can ensure mothers and elders are given relief, with the sincere and constant comfort of friendship, through coffee mornings and phone support. Somebody to talk to, to seek solace in and to reach out to. Help build a strong network of support by connecting people together during a difficult and isolating season.
"Everyday somebody from HHUGS rings to ask me, 'how am I? How am I doing today? 'I can't go to my family, because they don't like the Muslim thing my son went into. My mum doesn't speak to me. Where I need the support, I don't get it. I don't, I'm lonely, I always say to my family, if it wasn't for the Muslim people I wouldn't be anywhere because I've had nothing from the family as such. HHUGS is like a loving mother whose love reaches out to people. HHUGS is my mum, my grandmother and I am truly grateful for them." – Grace
Lend them an ear this Winter. Offer them Warm Companionship so they don't have to battle Winter alone.