Ramadhan Gift Hampers
Gifting is an expression of love. It is the warmth of a hug captured in a box. It is a smile after a long day, and a nod of understanding. It is an act of appreciation, a token of yourself which you pour out into the selection of a present, of scouring aisles and webpages for the perfect wrapping paper and spending far too long perfecting a bow.
It is waiting for a reaction, of seeing the receiver delicately unwrap or rip open furiously. It is the message sent afterwards, the cuddle of joy, and the word of thanks. We do it all for that single moment, the beam on faces when the recipient realises that it was all for them.
That moment makes it worth it, to be able to warm someone's heart even for a single moment is always priceless, especially when receiving a gift is something which doesn't happen that often.
When your days are usually filled with hardship, absence and isolation, you begin to close your heart off, to never expect such heartfelt gestures. This is the reality for HHUGS families.
Ramadan is often bitterly painful for vulnerable and isolated families. Single mothers struggle under financial strain, worrying about what their husbands are eating in prison. Children long to sit beside their fathers at the iftar table once again. At a time where we congregate with our loved ones, they are spending Ramadhan alone, abandoned by family and friends.
"It didn't feel like Ramadan, it didn't feel like Eid. He's in prison and can't do anything and how's he celebrating? What was he doing? I felt like, 'why should I celebrate when my husband is in prison?'"
It's difficult to feel the joy of Ramadhan, when your heart and home is filled the void of a loved one. But we wanted to do our bit, to warm the hearts of HHUGS families in Ramadhan.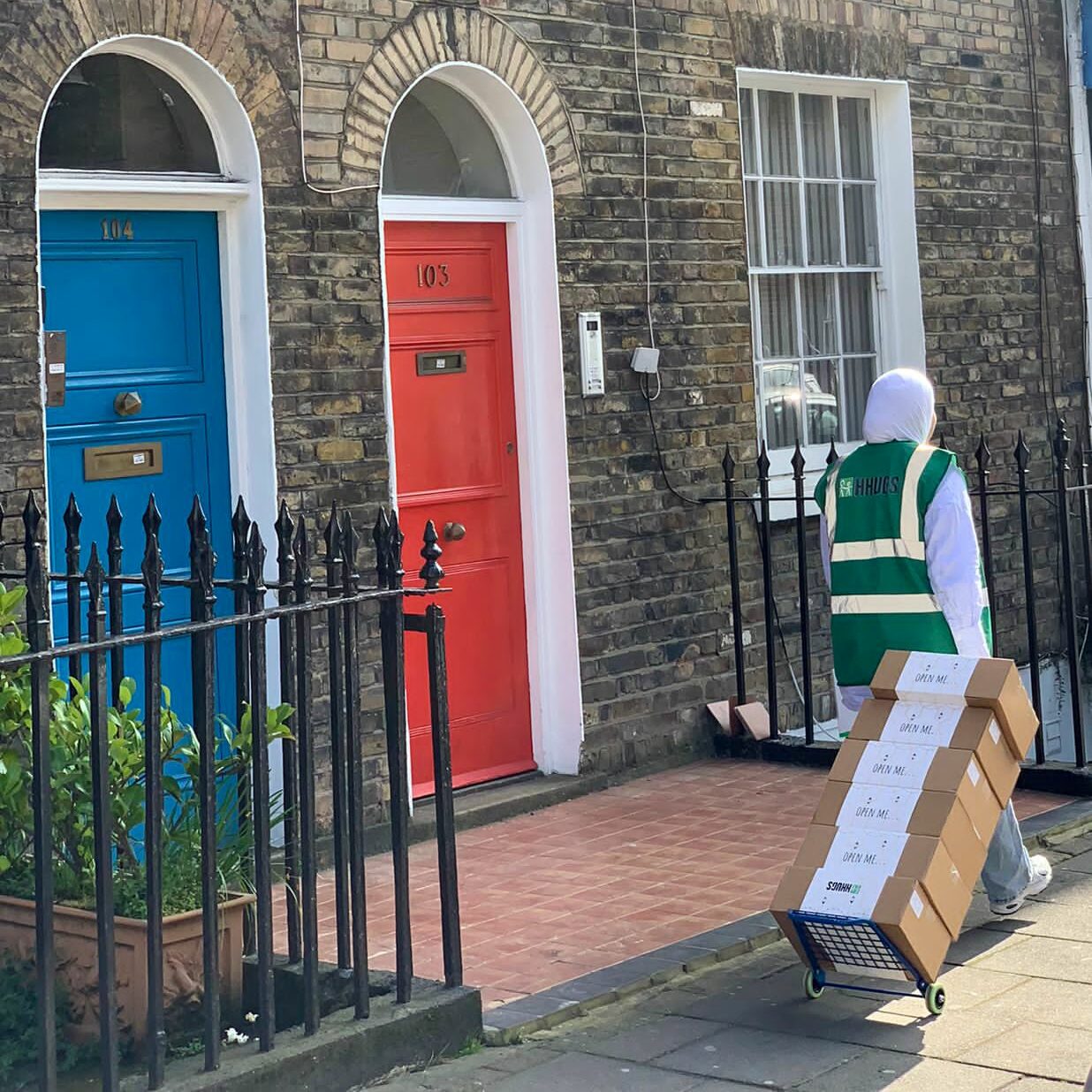 The aim of our Ramadhan Gift Boxes are to remind families that they are not alone, especially at a time where they feel neglected and isolated than any other time of the year.
You made it possible
The Prophet (saw), was asked, "Which deeds are best?" The Prophet said: To bring happiness to a believer, to satisfy his hunger, to clothe his nakedness, or to fulfill his needs. (al-Mu'jam al-Awsaṭ)
This Shaban you did the best of deeds and made a believer happy. Because of your generosity 428 Adults and 241 children received Ramadhan gift hampers.
"JazakAllah Khair for the gift box. There was something for everyone inside it. All my children were happy. May Allah ta'ala shower you all with his mercy and blessings and screen you on the day of judgement for making life that much easier for the prisoners' families. Ameen. You sure know how to brighten up a family's day when they are struggling."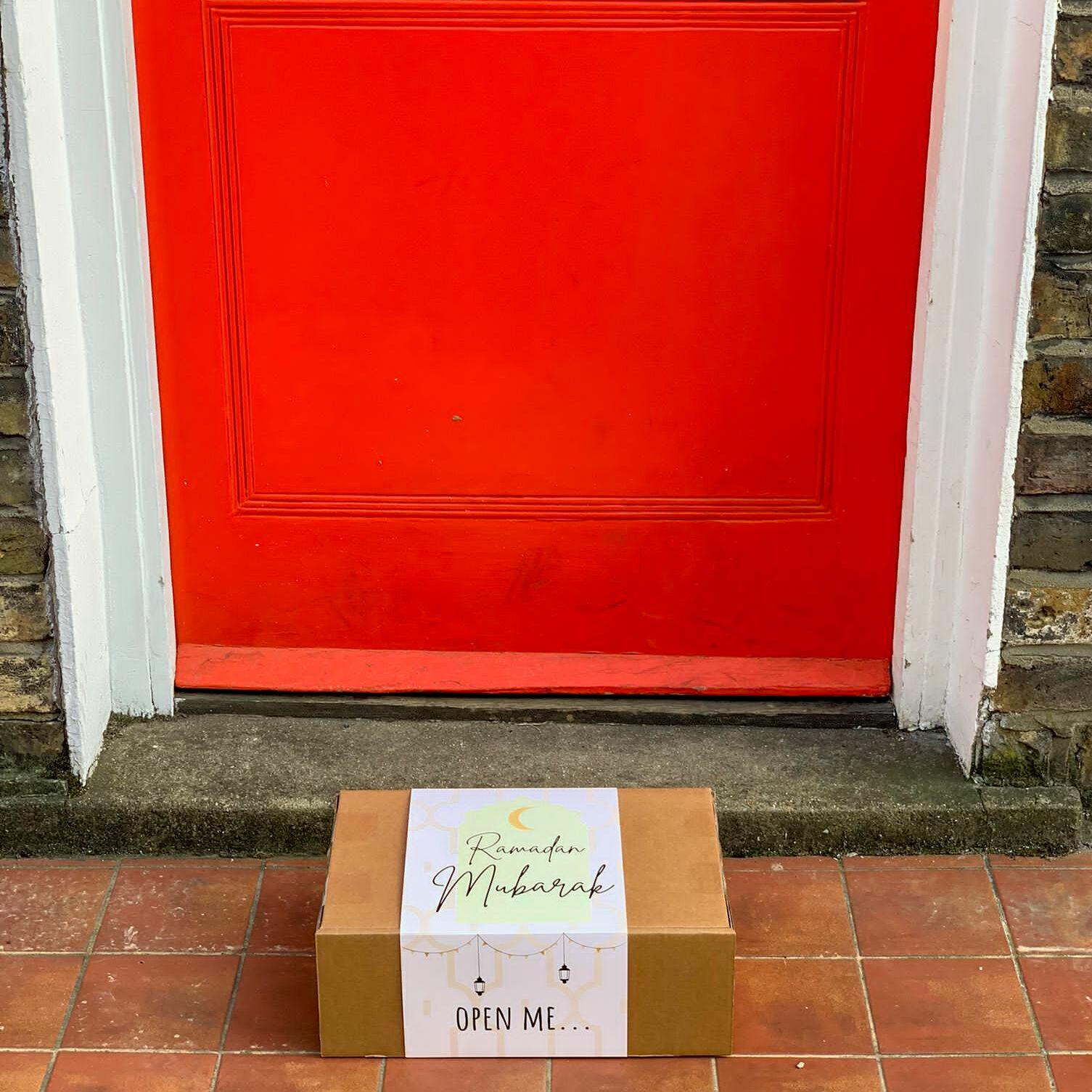 For single mothers, and children to whom Ramadhan is just another reminder of the empty chair at their table, the Ramadhan gift box is a beautiful gesture which reinforces the unity of the ummah. Prayers on the lips of the oppressed are said for you, and what a reward that is for your generosity.
"Just to thank you all at HHUGS. Your work is very much appreciated, especially remembering us on these special occasions. Your efforts and items are always well received especially in households with children. JazakAllah khayr. May Allah send helpers to you in your time of need, just as you help others during their time of need."
The team behind the box
Our dedicated beneficiary team worked tirelessly to successfully source, package, and distribute the gift boxes within the time window and on budget. Our Beneficiary Campaigns Coordinator shares her thoughts on the importance of supporting HHUGS families during Ramadhan.
"Personally, knowing that our families know that HHUGS is there for them during this blessed month, where many groups in our communities feel isolated, makes the campaign worthwhile. It's a gentle reminder that, whilst they may feel alone, HHUGS will always be there no matter what, especially in the blessed month of Ramadan."
This year's Ramadhan gift box included a variety of items in there, including Sunnah items which was a theme for the Ramadhan gift box.
"This year, we tried to provide a hamper that included a variety of different items. Our emphasis was using long term businesses that we have used before such as Yaffa and Azhar Academy. We included Sunnah items such as honey, zam zam water, black seed oil and dates. In addition, we ensured that families with children had items such as decorations for Eid, Ramadan activities and books to read during this blessed month."
Our Female Casework Coordinator talks about the theme of the gift box, and her thoughts on the importance of the it.
"We wanted to do a Sunnah box and we searched for items we though would be well-received by families in preparation for Ramadhan."
"We were hoping when beneficiaries receive this box, they remember they are part of a bigger community and in the blessed month of Ramadhan, they are reminded of the support and community provided by HHUGS. The gift is sent to all HHUGS families."
The items were well considered, and well received by HHUGS families. The Ramadhan activities and decorations were a great way to help uplift the hearts of children who struggle to see the blessings of Ramadhan.
"My kids love receiving this, every year. They help put the decorations up and I really enjoyed reading the books provided."
"The box had a mix of things which made it perfect.. 'The Simple Seerah' book is what we are reading during Ramadhan, and the dates, activity book are wonderful."
Our Ramadhan gift boxes were sourced and packaged with love and care. Our team worked hard to make it special, as they knew that for many, the Ramadhan gift box would be the only gesture of joy that they would receive.
"I was so surprised and happy when I received my gift box, alhamdulillah. It had just the right gifts inside specifically beneficial for Ramadan. I felt very special and blessed, alhamdulillah."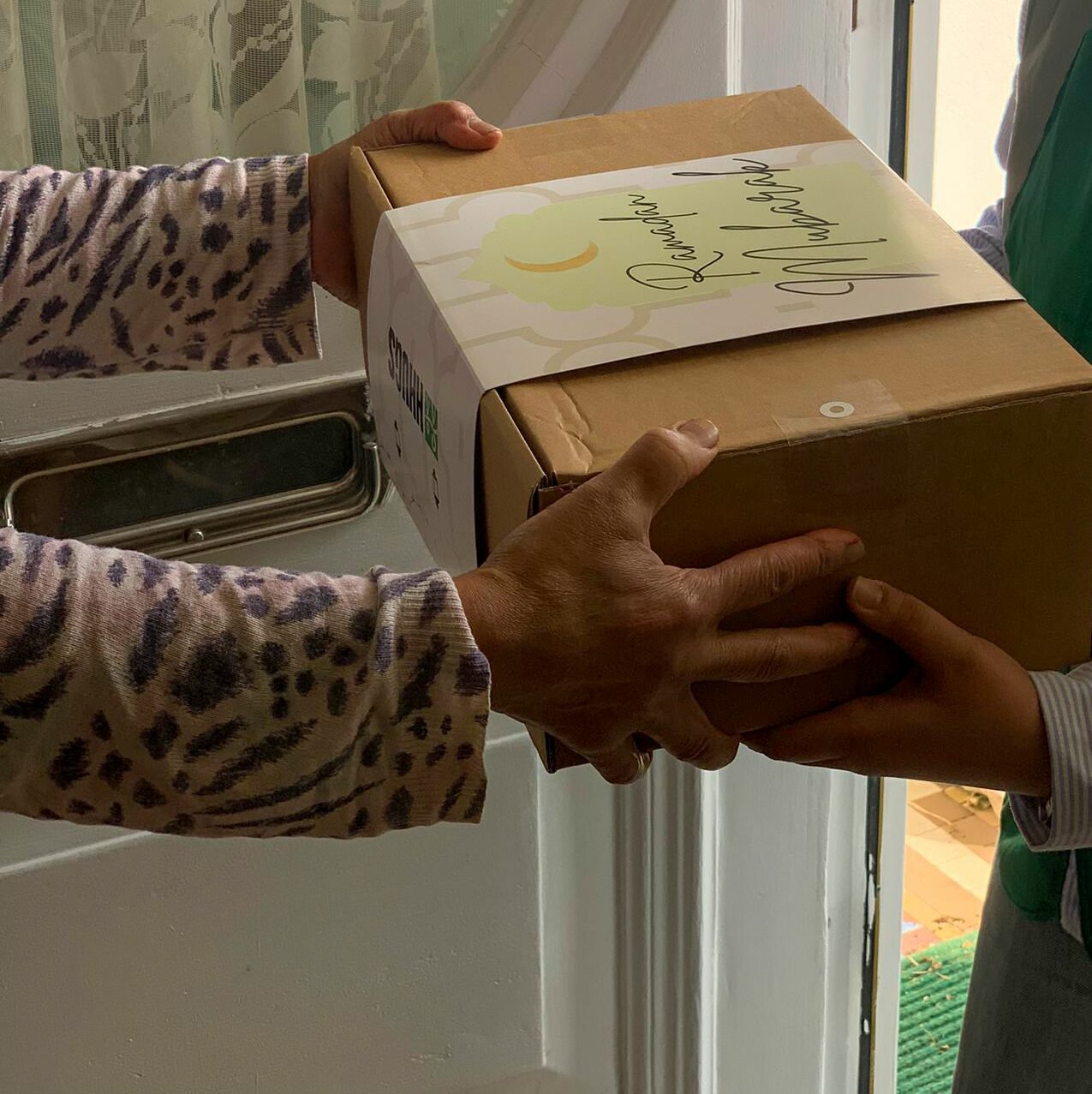 Our heroes on wheels
Receiving a gift by post is always a great surprise. To an extent that applies even when it's a package you've ordered yourself, you still feel joy when it's delivered. But there's something even more special, being gifted a present in person. That's why for the first time, we decided to deliver the Ramadhan gift boxes to our London families in person!
But we wouldn't have could do without our heroes on wheels. Our volunteer drivers generously helped us distribute the gifts to HHUGS families!
"The volunteers were happy to be involved and we have volunteers that are keen to support us."
It was also the first year that HHUGS staff hand delivered many of the boxes. Our Female Casework Coordinator shares her experience of delivering to families to whom she has connected with.
"It was really nice to meet some of the families we are in touch with regularly over the phone. It felt as if you were delivering a present to a friend."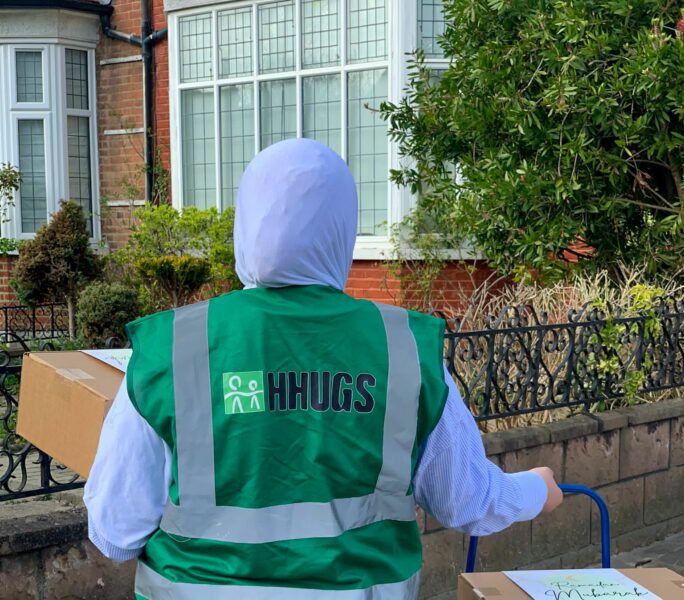 We are also grateful to businesses who generously provided us with discounted items, and we pray they are bestowed with both worldly blessings and reward in the hereafter.
"The idea of a Ramadan Hamper this year was inspired by boxes and gifts small businesses have put together. Including items that would be needed for the month of Ramadan made it easy to find items that would fit the theme of Ramadan. We received discounted items from majority of long-term businesses we have used as well as new suppliers such as Simple Seerah and small Etsy businesses such as MadebyHafsaa."
Everyone played a pinnacle part in making this reality for HHUGS families. Whether you were among those who supported financially, or delivered to our families. If you shared a post encouraging others to support, or helped source the items, without you it wouldn't be possible. Our Beneficiary Campaigns Coordinator sums it up beautifully.
"One of the beautiful things about the Ramadan Campaign is that it involves the efforts of the team, suppliers and our volunteers. Without these components, we wouldn't be able to execute such an important campaign."
We are now in the blessed month of Ramadhan. A month in which the reward for good deeds are multiplied. With the theme of gifting in mind, you can deliver such joy for Eid. For many households, the gifts that HHUGS deliver will be the only ones they receive. It will be the only token of appreciation and love on that day.
"A great gift to receive, always puts a smile on my face getting gifts from you all. Being a divorced revert with no family Muslim I don't get gifts so I do look forward to yours. Was not disappointed. Thank you so much. May Allah reward you all in this life and the next. Ameen"
"Receiving my Ramadan Gift Hamper reminded me that I have support during this lonely and difficult time, alhamdulillah."
Our Female Casework Coordinator reminds the significance of gifting within our faith, and the importance of the opportunity that you have to bring joy to a fellow believer.
"The Messenger of Allah (SAW) used to accept gifts and reward people for giving them. To be able to give within your own community has its own merits as you are able to experience first hand the joy you bring to the communities. Year upon year, we have received positive feedback for these gifts and the du'as are lovely to hear."
In the Month of Mercy, will you have mercy on the young within HHUGS households who are waiting for their token of love to be delivered on Eid? Fill their hearts with festive joy today.