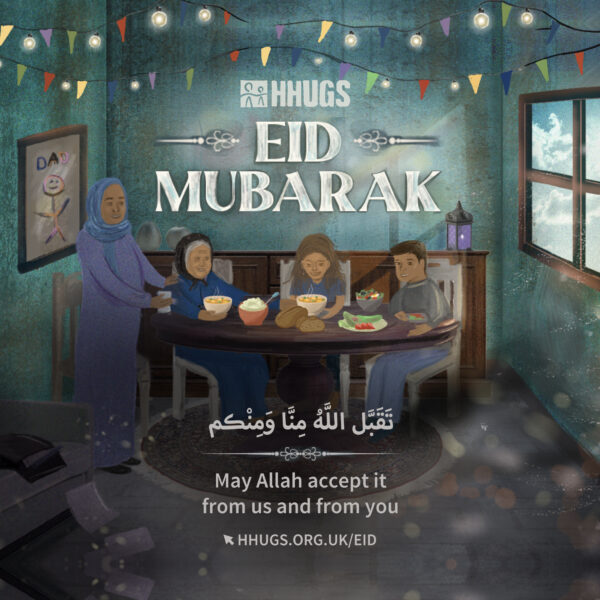 May Allah accept your siyam, qiyam, sadaqah and Ibadah from the auspicious month of Ramadhan.
On behalf of all our beneficiaries, volunteers, staff and trustees, HHUGS wishes you and your loved ones an Eid overflowing with happiness and joy.
The departure of Ramadhan is a bittersweet moment. Eid celebrations are in full swing, but we mourn the auspicious month slipping away. We dwell on the gift of Ramadhan, and how blessed we were to experienced such a month, filled with mercy and compassion. A month in which our weary souls were nourished, our hearts purified and our connection with Him strengthened. We have spent the last month striving in obedience to Him, spending our days fasting, and our nights in solitude calling out to Him. Capturing pockets of blessings with iftar parcels, and praying shoulder to shoulder in congregation in the last ten nights are customs we savoured.
It's during this blessed month, that we see mountains of generosity and compassion from the ummah. Witnessing strangers helping strangers for His Sake is heart-warming, and never fails to surprise us.
"The parable of the believers in their affection, mercy, and compassion for each other is that of a body. When any limb aches, the whole body reacts with sleeplessness and fever." [al-Bukhari]
Without your support, we would be unable to continue our services for families who have nowhere to turn to, struggling with the absence of their loved one, staring at the empty chair at the iftar table. This Ramadhan, your generosity has enabled us to raise over £610,453 to alleviate HHUGS families and allow them to feel the mercy of Ramadhan, and joy of Eid.
Our heartfelt thanks goes out to all our donors and our impressive fundraisers, 107 of whom registered for our Race 2 Jannah Challenge, and raised over £178,000 this Ramadhan.
This Ramadhan, you not only helped fill their plates, but filled the void in their hearts and homes. Ramadhan and Eid is often a reminder of what is missing, of isolation and unspoken traumas. Because of your support, the revival of the Ramadhan spirit entered households not too far from your own. You helped plant smiles on young faces, and made the occasion of Eid special once again.
"Honestly, Eid comes and the only thing that makes us feel this special day is the gift from HHUGS, the brothers and sisters and what they do!"
While you're having fun with your family today, please spare a thought for those who can't experience that same happiness.
"Eid is not for the one who wears new clothes. Eid is for the one whose obedience rises." (Ibn Rajab)
The true meaning of Eid is to increase in obedience in gratitude to Him. We can embody gratitude for all the blessings that we have enjoyed in the past month, and the blessings we enjoy today with our loved ones by remembering those in need. There's still time to fill a child's heart with joy.
We pray Allah (swt) accepts your Sadaqah, and continues to reward you long after the month has ended. May He grant us all istiqamah after Ramadhan and the opportunity to live to see many more, ameen.