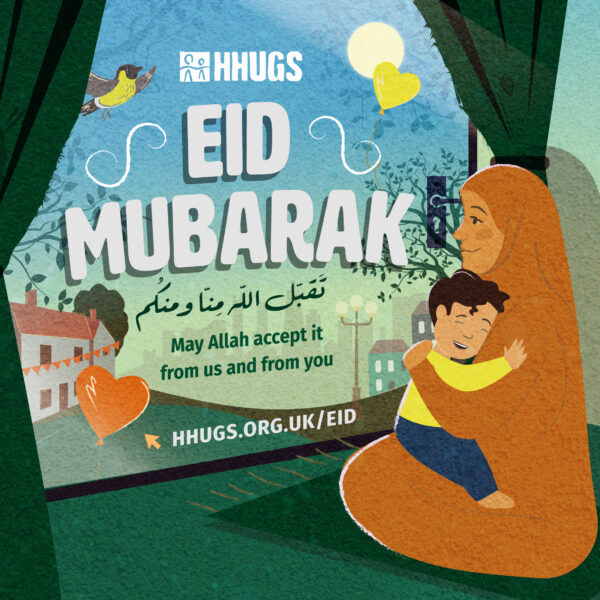 TaqabalAllahu minna wa minkum! Wherever you are celebrating, with whomever, we wish you and your loved ones a joyous Eid! On behalf of all the beneficiaries we support, the trustees, staff and volunteers at HHUGS, we pray that the day brings smiles to your face, and warmth to your heart. May Allah accept your sacrifice, fasting, sadaqah and Ibadah during the blessed ten days of Dhul Hijjah.
Eid ul 'Adha commemorates Ibrahim's (as) devotion to Allah, and his sacrifice, at the pinnacle of the Hajj pilgrimage. Millions have gathered, stripped of their worldly identity, donned in white, under the sun, calling out to Him. Others at home, kneeling on prayer mats on the day of Arafah, begging for forgiveness. We welcome Eid with sunnier hearts, having spent the last ten days in worship, capturing the virtues of the best ten days of the year. As tears flooded the plains of Arafah, the believers were freed from the fire, and forgiven. We pray that we are all amongst them. With such a hope, Eid couldn't be a more joyous occasion.
As brothers stood shoulder to shoulder in the holy land, across the world, others climbed silently out of bed, not wanting to wake their children, they sobbed silently in darkness, wanting to be among the forgiven. Wherever you are in the world, as Arafah was for you, so is Eid. A day gifted to you by your Lord, a day to celebrate and rejoice.
The generosity of our supporters never ceases to amaze us. You stuck with HHUGS families through the pandemic, through a socially distanced Ramadhan, and now even through the current cost of living crisis. Although there were cheaper options available, 115 of you still chose to raise the bar and perform your Qurbani with HHUGS; providing over 2070kg of meat in total; which was distributed amongst 541 people – 355 adults and 151 children in 212 HHUGS' families for this Eid and beyond; a rare treat for many.
"This is a very big help for us from your charity. We are very happy, because this meat is enough for my family for almost a year. Jazakum Allah khaira, wa baraka Allahu fikum!"
By gifting your Qurbani to single mothers in HHUGS households, you have provided them with meals for her family. They longer have to spend the day worrying about how they will provide dinner for her young. They are not only the ones whom you have gifted joy to. Because of your generosity, children in HHUGS households can receive presents, from strangers whom didn't forget them. What may seem like a little gesture to others, mean the world to them.
"My children look forward to receiving Eid gifts, as there's been times where I couldn't buy them gifts and having gifts sent from HHUGS filled them with happiness and joy."
There is still time to bring joy to HHUGS children on the day of Eid! For just £15, you can be the reason for a child's smile on Eid.
We pray that the best ten days were a means of rejuvenation for you, for both your mind and soul. We pray it strengthened your bond, was a means of your freedom from the Fire, and forgiveness. Even if you were not on the plains of Arafah, or could not physically slaughter in Qurbani, we pray it you receive such its virtue and blessings tenfold.