For the first days of the Summer holidays, parents are glad to be rid of early mornings and pack lunches. But a few weeks in and the novelty has run off. Lie-ins and a relaxed routine has begun to welcome havoc in the household. You've exhausted the list of activities you had, and begun to realise that days out cost more than you bargained for. With only a third of the Summer holiday gone, you're at your wits end.
Don't worry; hundreds of parents, up and down the country feel the same way. With the cost of living increase, parents don't have the same amount they would usually have to spend on activities. But the truth is, fun doesn't need to cost the earth. Keeping your children entertained, stimulated and happy during your Summer holiday be done on a budget. Although you may have to be more creative, there's always a way to make it a Summer holiday to remember.
We've shortlisted 10 activities to entertain your children this Summer without breaking the bank
1. It's time to get soaked
With a warmer Summer than expected, we're all trying to find ways to cool down. Well, we've found a way to keep cool, and get a dreaded chore done at the same time! Give your children the opportunity to earn some pocket money whilst having a blast.
All you need are a few sponges, a bucket of soapy water, and a car in need of a Summer make-over. Encourage your children to wear their comfiest clothes which they don't mind getting wet, equip them with soapy water, and a sponge each and get them washing.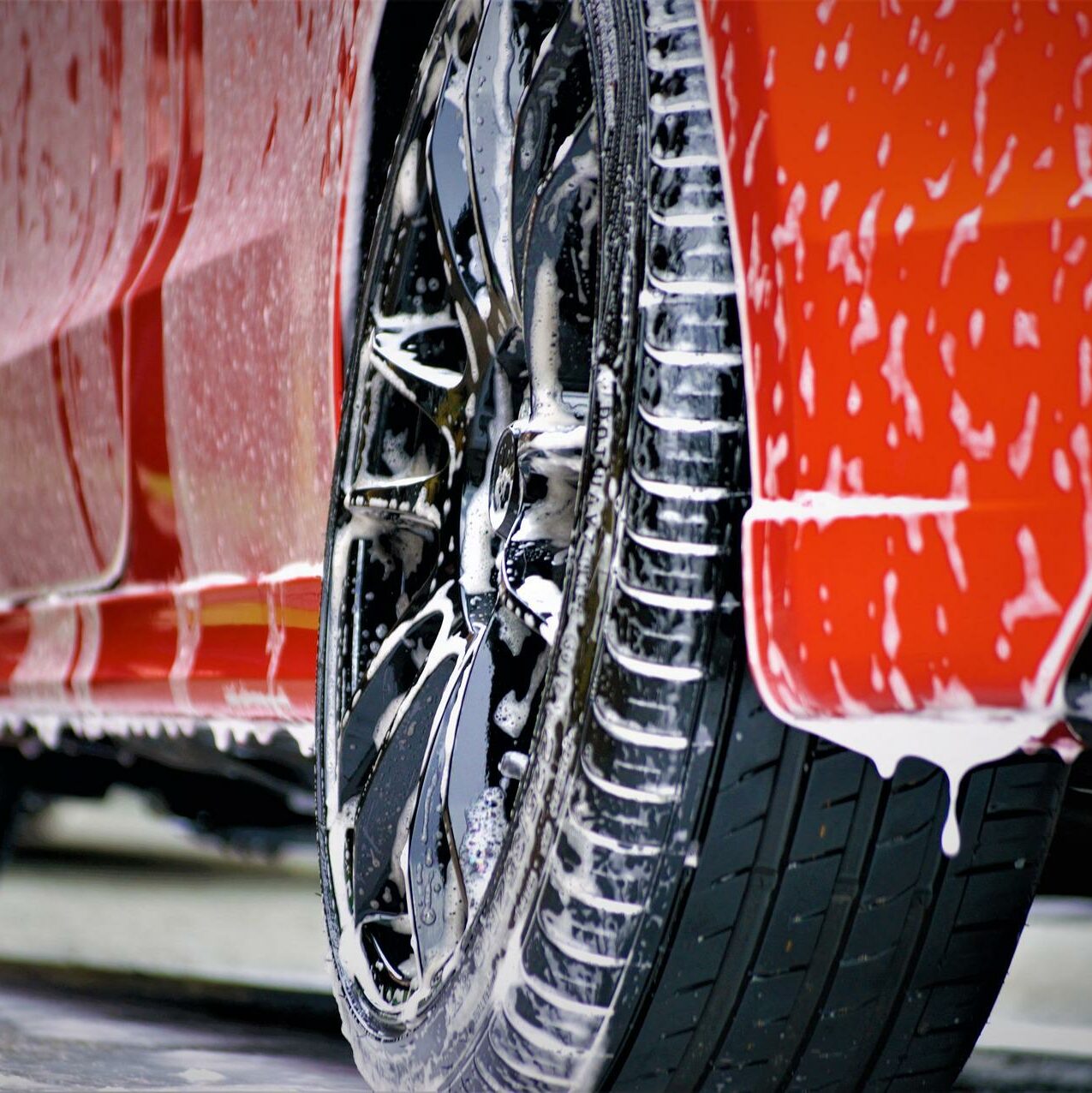 It is a lot more fun than it sounds, as the aim of the activity isn't only to clean the car, but to get soaked whilst doing so! Some may even climb on the car to get stuck in. And of course, a bonus would be for them to get paid for their hard work! A great opportunity to earn some pocket money.
Your kids get to be out in the Sun (don't forget your sun-cream) and active. It keeps them entertained for an hour and two and the reward of some pocket money is also a great incentive!
Also, as you are already wet, then why not have a water balloon fight?
2. Treasure hunt
It's time to feed your child's inquisitive mind with a treasure hunt. A treasure hunt is a perfect way to keep your children occupied, and if they have siblings, it will encourage them to work together. Have some ground rules to make sure it goes smoothly such as no running between clues, and to take it in to turns to read out the clues. This will help make everyone feel involved and part of the hunt.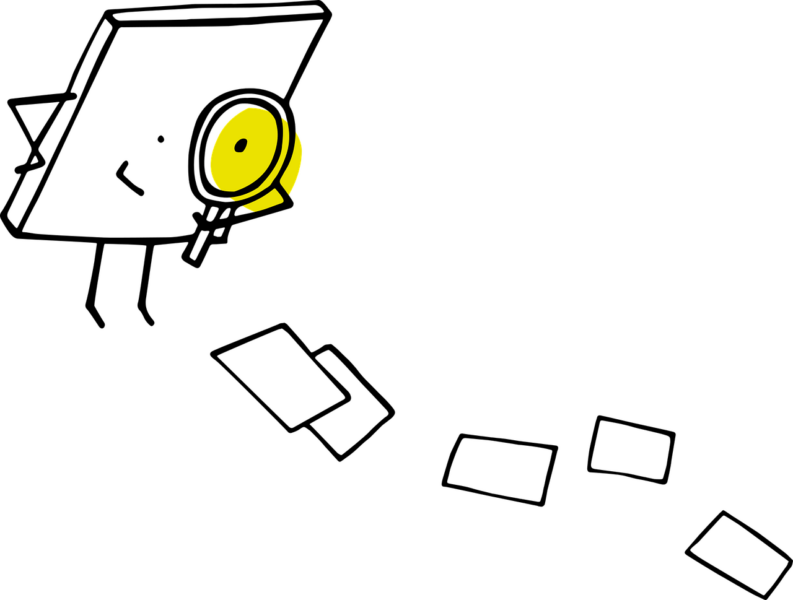 You can create clues depending on the age, and ability of your child. Rhyming clues are always a hit with children, however, you can also simplify it by making it personal to your own home, and the objects the clues are hidden in. For an indoor treasure hunt, a few examples of where to hide clues could be:
Under their pillow
In their shoes
Under the sofa
In their favourite book
In the fridge
In their sock draw
As the weather has been so good this summer, consider taking your treasure hunt outdoors, in your garden or local area or park.
The treasure at the end of the hunt can be anything, but make sure it's special, as your child has put some serious work into the hunt!
3. Make slime – the safe way
For some reason, the messier an activity is, the more fun the children seem to have. Well, if that's the case for your crew, then slime will be a hit. Many have reservations about making slime, due to not having the correct ingredients on hand, or because of the concern of children putting it in their mouths and the implication of it.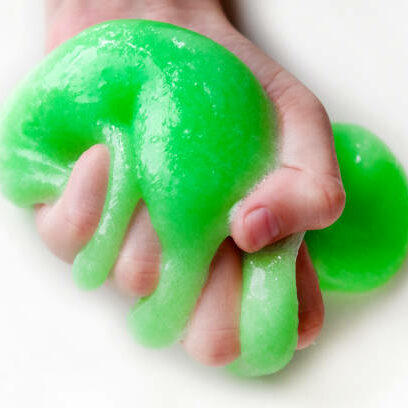 But we have found a recipe to make it with all your cupboard staples, and fear not, if your child does secretly try to taste their creation, they won't be in harms way.
What are you waiting for? Get sliming!
4. Get rockin' and paintin'  
Rocks are always lying around, be it in your garden, on the street, or in the park. If you have a garden, then all you need to is instruct your children to go out there and choose their favourite rocks. Ask them to pick at least 3-4, and encourage them to pick ones that are flat, and smooth.
If you don't have access to a garden, then you've got the bonus of a trip to the park. Head out to your local park, or green space and hunt for those rocks there. Weather permitting, you can do this activity outdoors, in the park or in your own garden. All you need is a big sheet that you don't mind getting paint on, and some paint and brushes.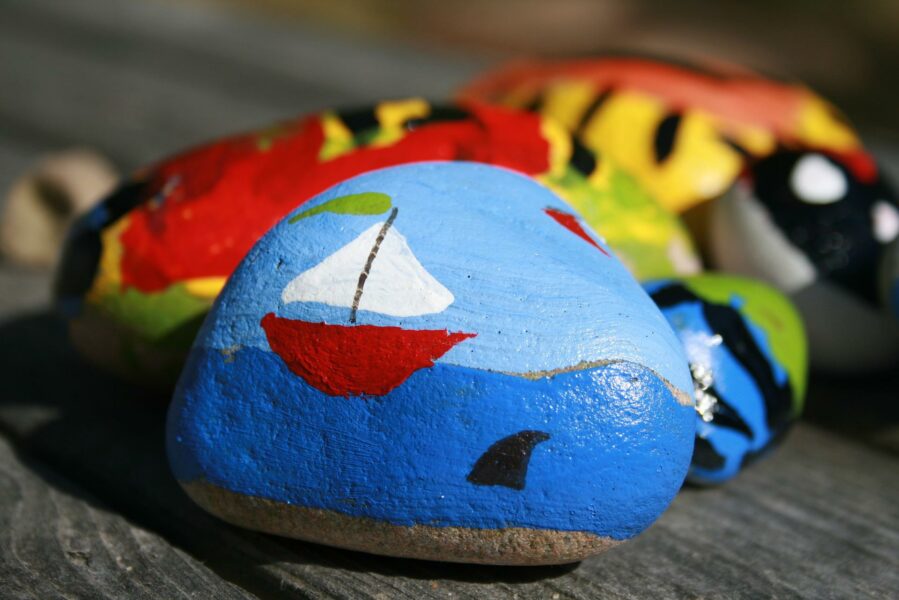 Let your imagination run wild. Get stuck in with your children so you enjoy the activity together. Beware; it is very therapeutic! You might find yourself doing it without your children at a later stage. Once they are done, let them dry and they can be used as paperweights or as décor!
5. Pin the dome on the mosque
Games always get a little more exciting when you're blindfolded. It heightens your senses, and it's the unexpected which increases the tension. For this game, make sure that you have a space which is cleared, away from furniture or objects that can be bumped into. Always have an adult supervising as you children will be blindfolded, so it's important that they are monitored.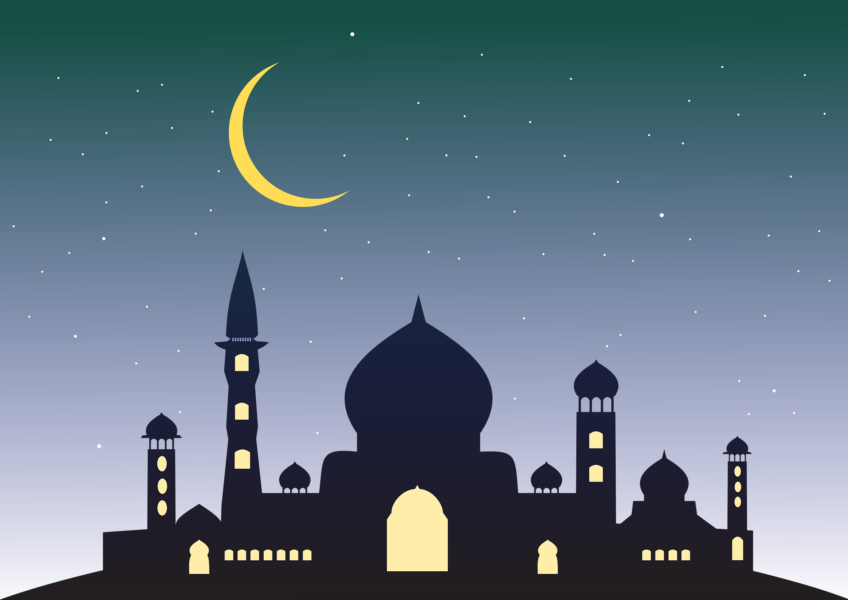 For this game, you will need to:
Draw a large image of a mosque, leaving off the dome
On another paper, draw a dome that could fit on the top of the mosque
Cut around the dome
Put some blue-tac on the back of the code
Stick the picture of the mosque on the wall
Have 2-3 children take part in the game by blindfolding one
Spin the blindfolded child around
Guide them towards the image of the mosque and hand them the dome
Their aim is to pin the dome on the mosque
Once they have pinned it, take their blindfold off
Repeat with other players
Winner has the dome closest to where it is supposed to be
6. Do I hear Pizza Party?
Who doesn't love a pizza party? It's going to be a hit with the kids, and you can get their lunch sorted. Have a selection of toppings for the kids to choose from ranging from sweetcorn to olives, and if you dare, maybe even some pineapple – ooh, controversy!
If they need some inspiration, then guide them to make a face on their pizza, or even try to spell out the initial of their name.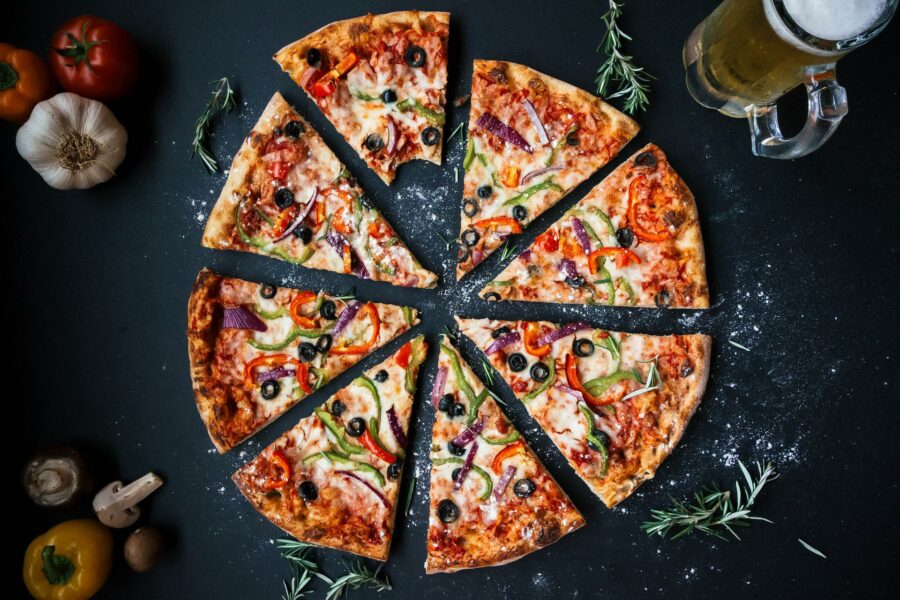 Get your children to decorate their own pizza, by buying pre-made pizza bases without toppings, or bake your own from scratch. Let them get messy with it, and involved in watching their pizzas bake beautifully in the oven. Make sure they keep a safe distance when handling hot appliances, and make sure an adult is present always during the baking process.  
7. Time for a picnic
Take it outdoors, whatever you've got planned – just take it outdoors! Get yourself a big old picnic mat, (or any sheet you've got lying around – it'll do just fine), pack some snacks, some sun-cream, and your favourite book and head out.
Encourage your children to bring along books, games or even their homework, that they've left to last minute. Whilst you're at the park, try to remain tech free and immerse yourself in nature and some good old family time. You can also use this opportunity to ponder on the creation of Allah as a family. Share a story or two about the Prophets and the companions (ra) of the Prophet (saw).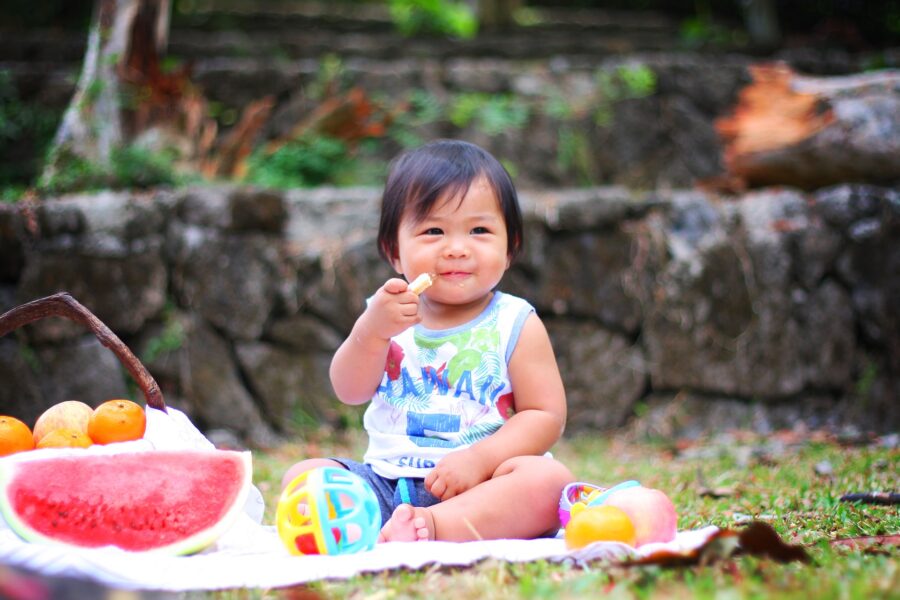 Ask your children to ponder to talk about one thing they are grateful for, what they would like to get out the Summer holiday and what they look forward to the academic year ahead. It's the perfect chance to connect with your children, away from the distractions of tech.
8. Make science fun
Activities don't always need to be just fun, they can also be educational. Get out your most wacky goggles, and a lab coat if you have one and get stuck in with some science experiments. They are simple to follow and can be done with items from your kitchen cupboard!
Here are a range for you to choose from. Remember to always follow safety guidelines and have an adult supervising.
9. Build a den
Dens are where all the cool things happen. Hushed adventure stories, role-playing books and yummy snacks. You can build it either in your garden, or indoors. Use pillows, cushions, and chairs. Make it as comfy as possible, and study so children can come in and out as they please.
If you need some assistance, and would like a helping hand then do read this guide here!
10. Take a late-night walk
Going out in your pyjamas isn't something we encourage our children to do on a daily, but why not have a chilled evening on a cool Summer night? Ask them to dress in their favorite jammies and go out on a walk with the whole family! This helps get them active, and out and about to explore!
Make it a Summer to remember!
These are just a few ways that you can keep your children occupied! The beauty is, often the most memorable moments of our childhood aren't those where the most money was spent. It is where we were connected, fully engaged and where we were given undivided attention by our loved ones.
This Summer, get stuck in and make those special memories!