Competitive spirit, arrows and a group of sisters is what you would have found in East London this September. The group of 28 sisters were brave enough to take part in the HHUGS Sisters' Combat Archery Challenge, to both have a great time, and raise much-needed funds for our families. They successfully raised a whopping £9020, but are still determined and pushing to reach over £10,000!
Fundraising for HHUGS connects people from different backgrounds for a worthy cause – couple that with an exciting activity, and you will find remarkable, and adventurous people. Both Sumayyah and Umm Muhammed participated in the challenge, and share their experiences with us.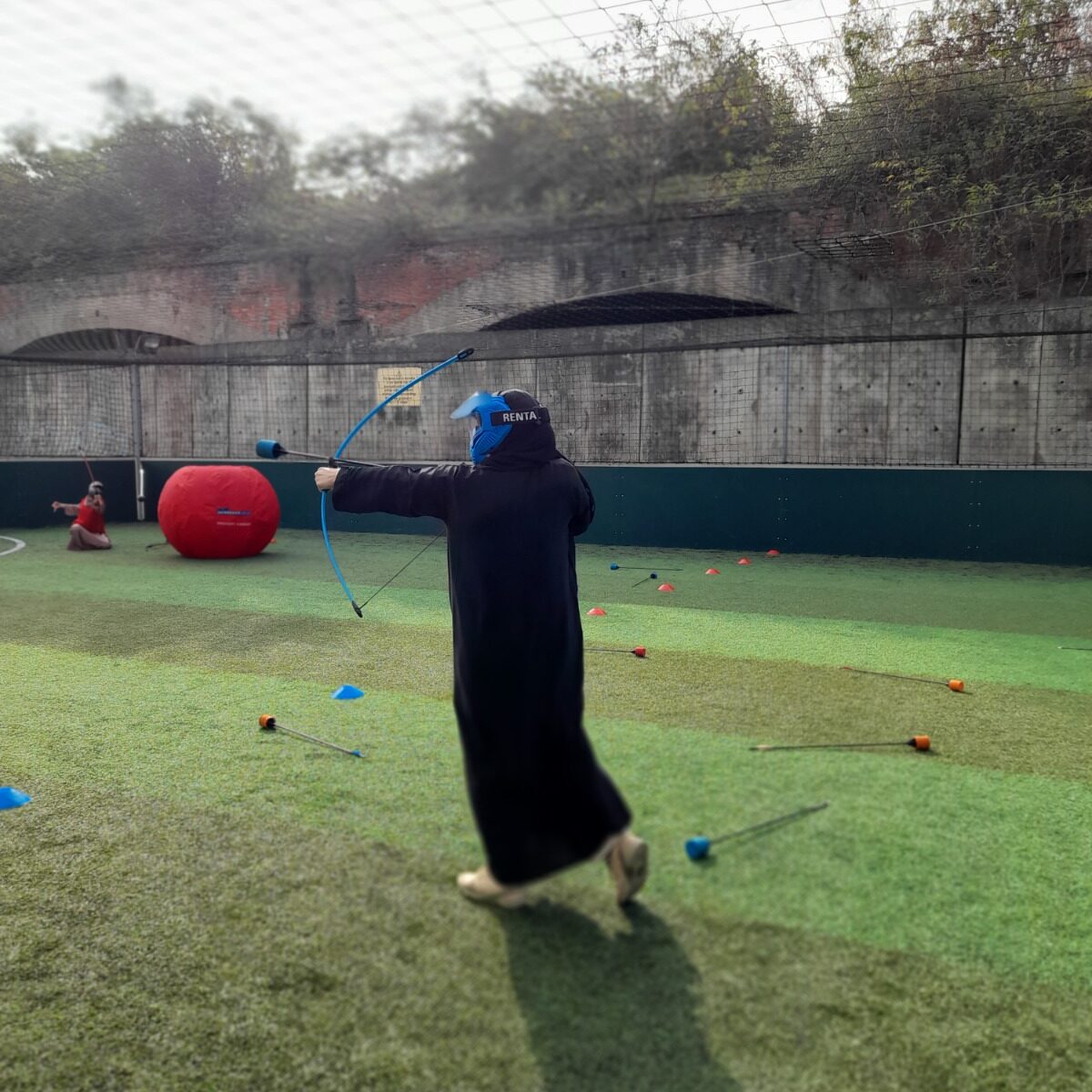 Sumayyah: Heated games followed by chilled ice-cream
Sumayyah is not a stranger to HHUGS. Her previous positive experiences with HHUGS is what encouraged her to take part in the Archery Challenge. "I've attended a HHUGS event before and it was an amazing experience Alhamdulillah, so when archery popped up, I instantly wanted to participate."
Sumayyah did have some prior fundraising experience but mentioned that her fundraising journey with HHUGS was particularly nice, given the support she received. Although she has not reached her target yet, her dedication to our work remained unwavering.
She shares some great words of wisdom regarding fundraising. "Be proactive and don't be afraid to share it around to anywhere you can! Pictures are also a good way of grabbing attention too."
Sumayyah connected with sisters at the event, and thoroughly enjoyed herself.
"My experience was amazing and everyone was so nice! It was so much fun. It was an amazing time!"
"Seeing all the sisters become so competitive (in a good way)! Everyone was so fired up which made the experience so much more fun."
After the challenge, Sumayyah felt refreshed and celebrated her accomplishments by sharing a meal with fellow sisters from the event. We agree that's there no better way to reward yourself than some delightful ice cream, a well-deserved treat for her efforts.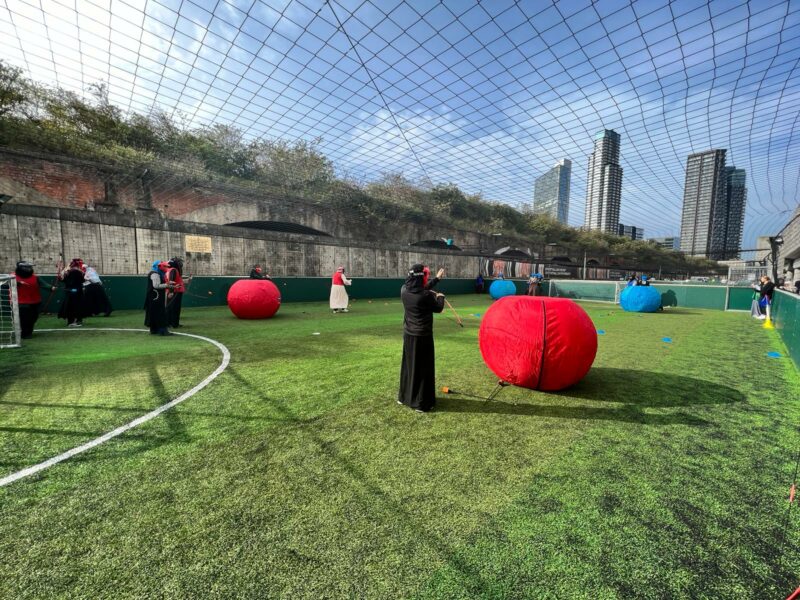 Umm Muhammed: Curiosity led to connection
You could say Umm Muhammed is often curious, that's why her profession of being a science teacher suits her well. The Archery challenge, which she found out about via a Whatsapp story, intrigued her. She wanted to know how she could take part, while preserving her modesty – dressed in Islamic attire.
It was her first-time fundraising, but that hasn't stopped her from striving to reach her target.
"The whole experience was made very easy as we received lots of help, encouragement and guidance from the organisers. I have not yet reached my target however; I am very close to completion and will get there with the help of Allah."
Umm Muhammed heard about HHUGS through various channels, including events and conversations. She shares why she chose to fundraise for HHUGS specifically.
"I have heard of HHUGS previously at other events, during Ramadhan or through conversations with people. What motivated me to fundraise specifically for HHUGS is simple.
"There is no other charity doing work within the UK like them. Also, as a teacher I see first-hand the devastating effects of children who come from single mother homes who have no support come to school hungry or not having clean new uniform."
Umm Muhammed was happy to meet new sisters and loved the sense of unity as women of all ages and backgrounds came together.
"The day went perfectly Alhamdulliah, I was extremely excited to meet new sisters and have fun. It was delightful to see sisters of all ages, cultures and distances come together for the day. The organisers were exceptional at making everyone feel welcomed and looking after us."
Her highlight of the event was being part of the winning team, the Red team. Despite feeling sore after the event, Umm Muhammed joined the other sisters and rewarded herself with a meal.
Umm Muhammed's advice to newcomers in fundraising was to focus on renewing their intentions and not to be discouraged.
"It can be daunting at first, as you are thinking, "Where would I get the money from?" but don't worry, Allah is Ar-Razzaq, He will provide. Just focus on renewing your intentions and even if you don't raise anything, you will still be rewarded by Him. Don't be scared because, whatever the situation, you are a winner."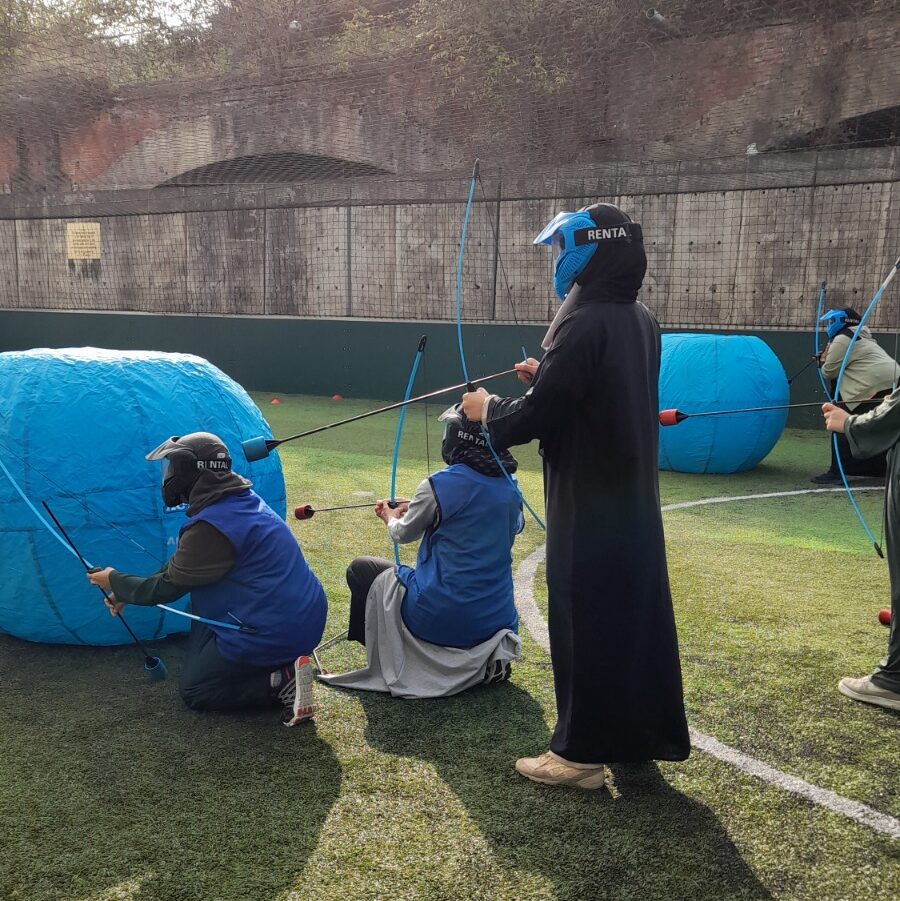 They were all winners
The archery challenge did not only bring people like Sumayyah and Umm Muhammed together but also highlighted the power of unity, determination, and support.
They serve as inspiring examples of individuals who stepped out of their comfort zones to fundraise for a meaningful cause. We continue to make a positive impact in the lives of vulnerable families, thanks to the dedication and support of individuals like Sumayyah and Umm Muhammed.
A big thank you to everyone who took part, for those who donated, and for the staff that helped make it happen.