Alp Combat Archery 2022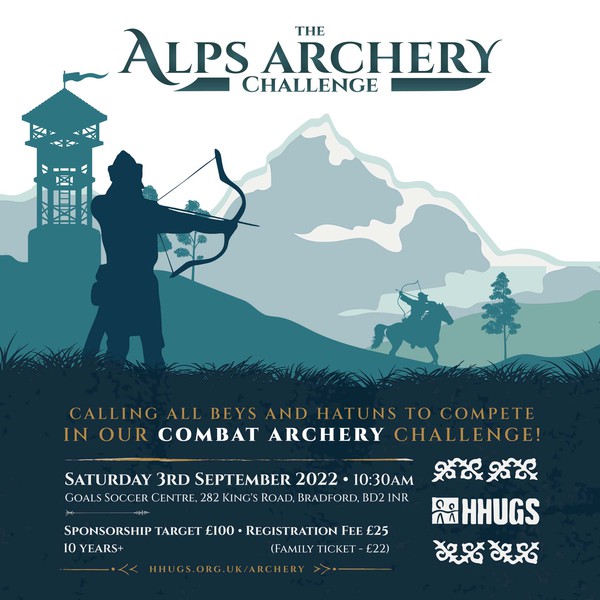 Alps Archery Promo Bradford
The Alp Archery Challenge
Saturday 3rd September
10.30am
Registration Fee £25
Fundraising Target £100
Age: 10 years +
Fancy yourself as the next Boran Alp or Bala Hatun? Then, this challenge is for you!
It's time to turn up the heat this Summer!
Calling all beys and hatuns this September to take part in our Combat Archery Challenge! Get your bows and arrow ready! Whether you're a complete beginner or you're a pro, this challenge is for you!
Unleash your inner competitor and prepare yourself for a courageous combat. Don't underestimate the challenge. This isn't just a game of archery, it's COMBAT archery.
We're transporting you back in time once again to the Kayi tribe, this time with our Kurulus Osman-themed challenge to practice the sunnah sport of archery, while also raising much needed funds for vulnerable families in the UK. Ey Vallah!
Our combat archery challenge is an activity you don't want to miss out; an action-packed event promising to raise your adrenaline and your competitive spirit.
Get ready for the arrows to start flying!  Join HHUGS on Saturday 3rd September for an action-packed event with plenty of fast-paced games. Bring out of your competitive side by facing off against each other in the Archery Battlezone, using your skill and agility to make sure you're the last one standing! It's every man or woman for themselves, so prepare to bring your all!
We'd like you to focus on your aim, so we've taken care of the tricky stuff. If you'd like us to mark you in, then all you need to do is register, and start fundraising. Each participant must raise a minimum of £100 to take part. A number of fundraising initiatives and support tools will be available for all participants to make the minimum target easily achievable!
Hit a perfect bull's-eye this September by uplifting the hearts of HHUGS families, whilst immersing yourself in the world of combat archery.
The Prophet (saw) said "Learn the throwing of arrows, and do not be averse to it, for the area between the two targets holds a garden of the gardens of Paradise." (Ibn Abi Dunya)