Winter Walk 2022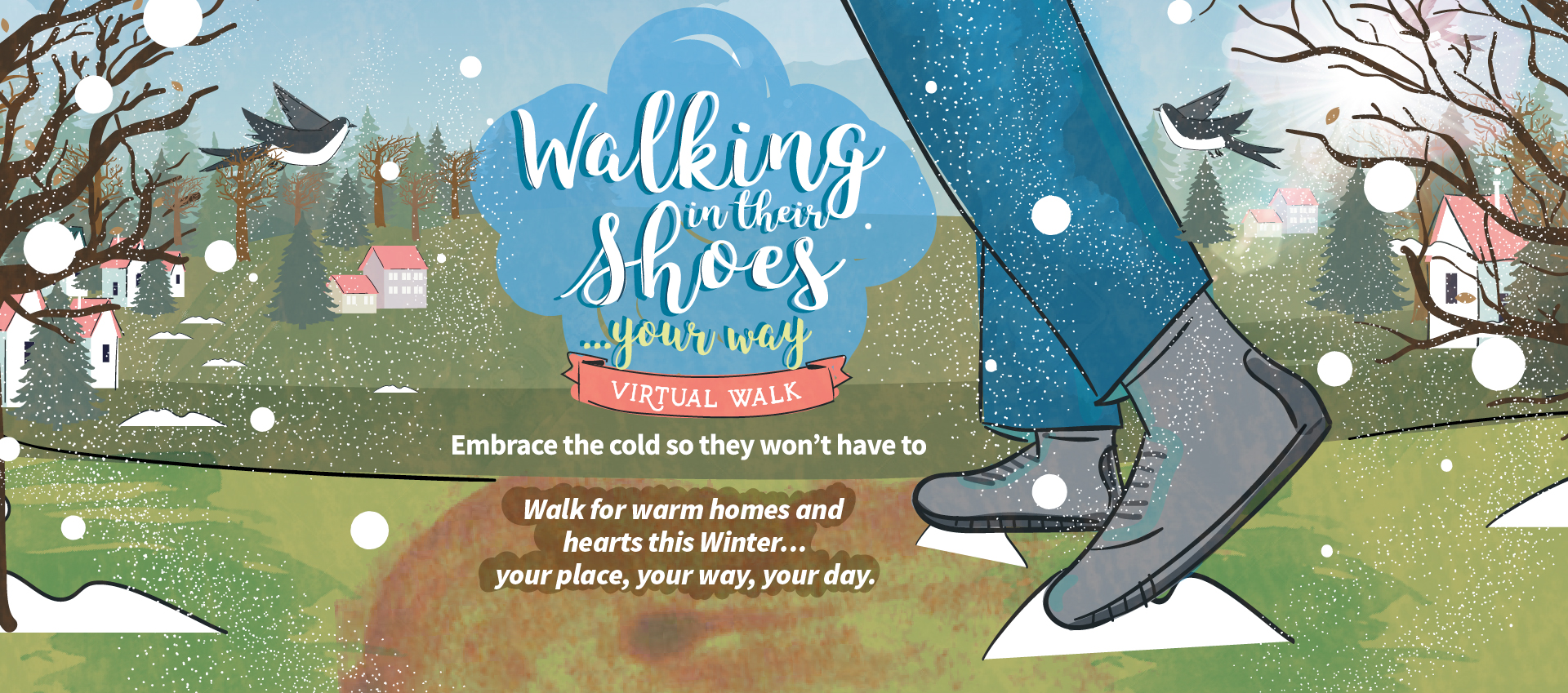 Walking in their Shoes… Your Way
Virtual Winter Walk
Embrace the cold – so they won't have to
Walk for warm homes and hearts this Winter… your place, your way, your day.

Calling all brave souls and generous hearts! Wrap up warm, defy the wintry chills and don your best walking shoes to take on our annual challenge, Walking in Their Shoes… your way!
Date: Any time from now until the end of Winter (February 28th 2022)
Distance: 5, 10 or 20 miles – or however long suits you!
Fundraising Target: £150
Now in its ninth year, the annual HHUGS Winter Walk returns – but this time, it's virtual.
As two unpredictable and tumultuous years draw to a close, vulnerable families have barely had time to recover from the impact of the pandemic, before the onset of Winter brings new challenges.
With rising food costs, growing uncertainty and an unstable economy, we hope our 9th Annual Winter Walk will be our biggest, broadest and best yet!
Together we can still take strides to provide vulnerable families with the support they need in these challenging Winter months. Wherever you are in the world, whether you step out with friends, walk with your family or prefer to go solo, it's time to strap up your walking boots for an enjoyable day out!
Be it 5, 10 or 20 miles or more, you can step up for those who need it most, in your own time, at your own pace, at the distance and location of your choice. All the goodness of fundraising, at your convenience.
Whether your content with your local park or want to venture further out to witness some of the most scenic spots in the UK; maybe you prefer stick to the safety of laps in your garden or even by covering the distance on your stairs – however, you choose to do it, by going the distance this Winter you will bring HHUGS families closer to warm relief during this icy season.
For the past nine years, by boldly defying the dropping temperatures, getting your heart rate going and braving the winter chill, you have shown how far reaching a little exertion can be. Your amazing efforts have:
Provided warm clothing for hundreds of children
Paid for gas and heating bills for those struggling to heat their homes
Sheltered families through the harsh winter by covering their rent
Provided essential necessities such as heaters and blankets
"In Winter, they send us vouchers for clothing and send us duvets to keep us warm. Allah knows the difference that HHUGS made to my life."
Simply sign up, set your fundraising target and spread the word far and wide!
So what are you waiting for? Strap up those laces and step up for HHUGS families this Winter!
Whilst we may be walking apart, we can beat their Winter blues together!
Sign up now: HHUGS.org.uk/winterwalk
0207 733 2104
*If you are under 18 a parent will need to register on your behalf.