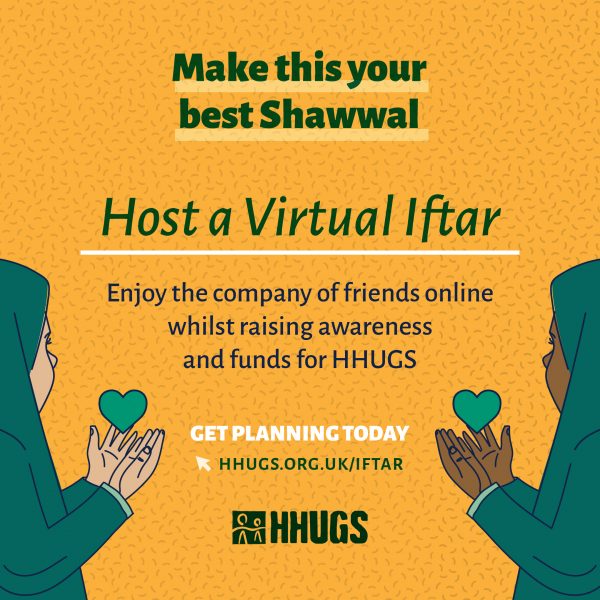 Why not host a special Iftar for some of your loved ones and raise some funds and heal a heart with Mercy this Shawwal?
"Whoever fasts Ramadan then follows it with six days of Shawwal, it is as if he fasted for a lifetime." (Ibn Majah)

This Ramadhan the warmth and comfort of iftar gatherings, breaking bread with our loved ones and community, was sorely missed. But even if we're under lockdown, why not make the most of the six sunnah fasts of Shawwal to host a virtual Iftar?
Whether you choose use Zoom or Google Hangouts, by hosting a virtual iftar, you can enjoy the comfort of your friends and family online whilst raising awareness and funds for HHUGS.
By hosting a HHUGS Iftar, you can extend a hand of compassion to families facing dark times, with minimal effort and expense. Continue the good deeds even after Ramadhan by the simple act of inviting your own guests for an Iftar meal and each making a donation towards the only charity of it's kind.
If you want to make a difference but can't donate much yourself,  then  A Date with HHUGS  provides the perfect opportunity,  combining the rewards of feeding a fasting person with that of sadaqah  for this  unique cause,  from the comfort of your own home  – a small action yet yielding great relief in the month where rewards are multiplied beyond measure.
"Whoever guides someone to virtue will be rewarded equivalent to him who practices that good action."  (Bukhari)
Tips to Organise Your Date With HHUGS:
Choose a date and time.
Schedule your meeting on Zoom or Google Hangouts
Invite your friends at least five days ahead, giving plenty of notice.
Suggest that everyone who attends makes a donation to HHUGS
Contact us for a fundraising script, ahadith about sadaqah, and testimonials from our beneficiaries to help you
Go on our website to get all the information you need about our work.
Select some videos from our  YouTube Channel  to play at your event.
Get your iftar ready
Go live! Break fast online with your friends and family
Get one of your guests to speak about the virtues of Sadaqah and remaining steadfast after Ramadhan, (give them time to prep beforehand!) or prepare the reminder yourself.
Host a Watch Party by watching our videos together online from our YouTube channel.
Aim for each attendee to set up a standing order– be it the cost of their daily caffeine fix at £1.17 a day/£35 a month, their daily chocolate fix – £0.80 a day/£25 a month, or their daily paper for £1.67 a day/£50 a month – even if it's £10 or £5 – every penny counts! 
Order your very own sadaqah jar from HHUGS and encourage your friends to do the same!
Encourage everyone to sign up as a volunteer!
"Whoever feeds a fasting person will have a reward like that of the fasting person, without any reduction in his reward." (Tirmidhi) If it's an online event, you could share in the reward of feeding a fast person by ordering or delivering food to everyone!
Or you can pick a culinary theme for you all to follow in your own homes! Or maybe you want to keep it simple – it's entirely up to you!
If it's an in person event, remember to keep safe by only allowing 6 people to attend in your garden or an outdoor space, practise social distancing by keeping 2m away from each person and frequent hand washing! You could ask a local restaurant to sponsor or donate food, or make it a one-dish party so guests to share in the reward!
Encourage your guests to make a pledge and fulfill it by organising their own Iftar or sponsored activities. They can sign up for one of our fundraising challenges this summer, such as our Race to Jannah and Give it up for HHUGS challenge.
Even if you're alone, you can still celebrate in style and together in spirit! Ask each attendee can take plenty of pictures, and tag us when you share them on social media!