Race 2 Jannah 2022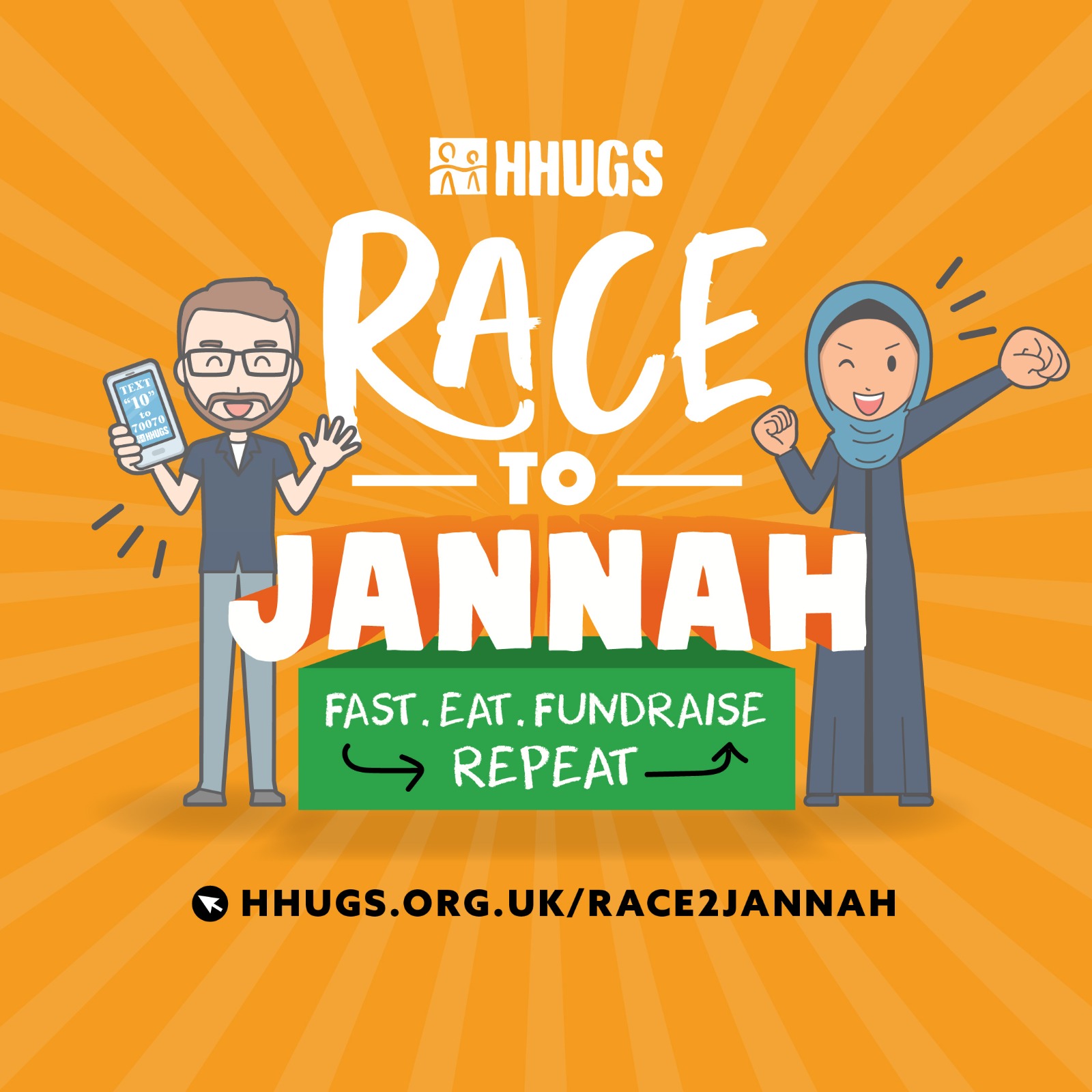 The Race to Jannah is back!
"Allah looks at your competing for His sake, and He boasts about you to His angels.
So show Allah goodness from yourselves." (at-Tabarani)
With Ramadan around the corner, the Race to Jannah is back again for our sixth year and counting!  The believers are pumped and ready, the competition is about to be in full swing. No hard slog, no need to work up a sweat, no need to relax your social distancing, it couldn't be easier. How could you miss out? Fast. Sleep. Fundraise. Repeat.
All we are looking for is a blessed group of 250 competitors to raise either £1,000 or £100 each for HHUGS families. Simple as that!
"Whoever draws near to Allah during this month by doing some good deeds is like one who does an obligatory action at any other time, and the one who does an obligatory action during this month is like one who does seventy obligatory actions at any other times." (Ibn Khuzaymah)
With 70 good deeds going for the price of 1, there's no way you're getting left behind, right? Well, you better make sure of it. In this month, if you snooze, you lose!
The opportunity to reap those good deeds during Ramadhan is beyond compare. There is nothing as satisfying as competing for goodness and in a month of increased reward, there is no better time either.
This year, we are raising the bar to another level, with two exciting new twists to a much-loved challenge: Firstly, we are launching our first-ever regional leaderboard, and secondly, we are throwing the competition open for the next generation to fundraise as Child Champions too!
Living through a global pandemic has been an unpredictable and challenging year for us all; but we may forget that many families in our midst live like this all year round. For families of prisoners already struggling with financial burdens, social isolation and mental health challenges, the pandemic has compounded existing hardships. By joining the Race to Jannah together, you can make a difference to families for whom social distancing and isolation is a norm.
So grab this opportunity to secure a mountain of good deeds by registering for our £250K Ramadhan challenge.
Where do you hail from? Represent your region!
This year, the competition is back with a different twist. Whether you are from brilliant Bradford, are a marvellous Mancunian or a laid back Londoner- we have a challenge for you. For the first time this year, every region will have its very own gaming leaderboard where you can compete for the top spot according to your city. Go head-to-head to prove whether Lutonians really are natural winners or if the superstars of South London will steal victory. Your team pages will be part of wider regional teams where you can revel in your competitive spirit and add an exciting edge to the fundraising challenge. So, draw your boundaries, gather your comrades and let the best region win!
Become a Child Champion!
… because big changes can come from little hearts
Why should adults have all the fun? Join HHUGS' Race to Jannah Challenge to become a Child Champion! We are calling on our bravest and brightest Child Champions to stand up and make a difference to other children's lives.
Think of all the things that makes a child's life secure- a roof over their head, hot, fresh food when they're are hungry, a family to play and relax with and a loving home they can feel at peace in. Some children don't have these same pleasures and miss out on the things that most of us take for granted. But it doesn't have to be that way. We believe children can change the world and we definitely believe in YOU to give another child something to truly smile about! You can raise money by setting yourself a physical or personal challenge. With Ramadan around the corner, you could be sponsored to fast, memorise a new Surah, learn the 99 Names of Allah or perfect your daily du'as. You can get active by doing a sponsored run, sports match or craft project. The only limit is your imagination!
Changing the world starts one step at a time. Sign up now to start your journey as a Child Champion!